'24: Legacy' Team on Reviving the Franchise, Tony Almeida's Return
When a franchise gets a reboot or revival, it's natural for fans to be skeptical. Too many shows have produced lackluster returns on nostalgia-fueled optimism.
24: Legacy star Corey Hawkins (Eric Carter) felt the same skepticism over the 24 universe expansion before he joined the Fox series. "I was such a fan of 24," he admitted during the show's New York Comic Con panel on Saturday. "When I heard they were bringing it back, I was like, 'Who they gonna get to [be the lead]?' It has to feel right. And then they sent me the script I read it, and it's a huge, huge credit to these guys… when we read it, it felt like we were doing 24. It felt like the original 24."
RELATED: 24: Legacy Cast, Producers on Expanding the World Without Jack and Chloe
Though the new series has the authentic feel of Jack Bauer's world, "it was a new 24 for a new generation and a new day," Hawkins continued. "And a new hero who looks like America today. It's a bit of a responsibility to do it justice. The things they put on the page, it's an honor."
Added Jimmy Smits (who plays Senator John Donovan), "For me, it was about this iconic, 24 visual thing. When you see that clock, you're jazzed by it."
Eric Carter is not intended to be Jack Bauer 2.0 (and Kiefer Sutherland is busying trying to save the world on-screen in his new hit Designated Survivor), and Carter's military background will help—and add complications for—him throughout his nightmare of a day. "Jack Bauer was a veteran CTU agent," Hawkins said. "Eric is not. It's about him trying to adjust…There's a lot of dark moments he has to wrestle with throughout the season."
RELATED: More Coverage From New York Comic Con
24: Legacy will also feature a new wrinkle, as Donovan is also presidential nominee, navigating his campaign in real-time as the threat escalates. Complicating matters is the fact that Donovan's wife, Rebecca Ingram (played by Miranda Otto), just stepped down as the head of CTU.
The series serves as a mini-reunion for Otto and executive producer Howard Gordon, who previously worked together on Homeland. "I was a huge fan of 24 when it was on," Otto said. "When I was on Homeland, I got so into that world of CIA and terrorism…I just jumped on board."
The producers are trying to give Legacy its due by letting it exist as its own entity without relying heavily on the original series, but at least one familiar face will be popping up: the panelists confirmed that former 24 star Carlos Bernard will reprise his role of Tony Almeida in Legacy. "He was in prison for doing terrible, terrible things," executive producer Evan Katz teased. "On the [24: Live Another Day] DVD, there's a little short where he arranges his escape. It's been planned for a very, very long time, or we were lucky we made that short."
24: Legacy, Series premiere, Sunday, February 5, 2017, Fox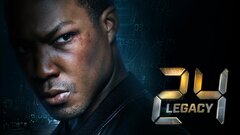 Powered by