'Once Upon a Time' Jennifer Morrison, Creators on Emma's Evolution, What's to Come
Emma is struggling with her malfunctioning savior powers on Once Upon a Time.
After dealing with years of pressures, "we're exploring the post-traumatic stress," Jennifer Morrison (Emma) said during the show's New York Comic Con panel, moderated by TV Guide Magazine's Rich Sands. "I think she's unraveling a little bit, trying to find herself a little bit of who she is."
In this week's episode "The Other Shoe," Emma attempts to keep her problems from Hook (Colin O'Donoghue), but her secret may be blown when she's needed in a key situation.
RELATED: Once Upon a Time: New Residents Cause Turmoil in Season 6
Emma and Hook will be also taking a significant step forward on the romantic side this season. "We're trying to show a real relationship," executive producer Eddy Kitsis said. "What we like to explore with the two of them is dealing with the real stuff in a real way." Added executive producer Adam Horowitz, "A happy ending isn't an end point, it's a continuing process."
Now that she's six seasons into the run of the show, Morrison pointed to the strong female characters as a particular point of pride. "You have three strong women [Emma, Regina and Snow] who are fighting for each other and fighting to build each other up and make each other better," she said. "[And] I get to play a character who is truly evolving and changing."
RELATED: More News From New York Comic Con
Looking ahead, upcoming episodes will focus on Cinderella (Jessy Schram), the origin story of Jekyell (Hank Harris) and Hyde (Sam Witwer), Aladdin (Deniz Akdeniz) and Jasmine (Karen David), plus a Captain Hook tale. Also, regarding the mysterious figure who kills Emma in her visions, "there's more oracle coming soon" Kitsis added. "You will have that answer by Christmas,"
Once Upon a Time, Sundays, 8/7c, ABC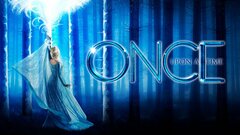 Powered by