Nikki DeLoach Stars in New Miracles of Christmas Movie 'Two Turtle Doves' (PHOTOS)
©2019 Crown Media United States LLC/Photographer: Steven Ackerman
©2019 Crown Media United States LLC/Photographer: Steven Ackerman
©2019 Crown Media United States LLC/Photographer: Steven Ackerman
©2019 Crown Media United States LLC/Photographer: Steven Ackerman
©2019 Crown Media United States LLC/Photographer: Steven Ackerman
©2019 Crown Media United States LLC/Photographer: Steven Ackerman
©2019 Crown Media United States LLC/Photographer: Steven Ackerman
©2019 Crown Media United States LLC/Photographer: Steven Ackerman
©2019 Crown Media United States LLC/Photographer: Steven Ackerman
©2019 Crown Media United States LLC/Photographer: Steven Ackerman
©2019 Crown Media United States LLC/Photographer: Steven Ackerman
©2019 Crown Media United States LLC/Photographer: Steven Ackerman
©2019 Crown Media United States LLC/Photographer: Steven Ackerman
©2019 Crown Media United States LLC/Photographer: Steven Ackerman
Neuroscientist Dr. Sharon Harper (Nikki DeLoach) returns to her quaint, small, Christmas-obsessed town and childhood home following the death of her beloved grandmother in the new Miracles of Christmas original movie, Two Turtle Doves.
In the movie, premiering Friday, November 1 on Hallmark Movies & Mysteries, Dr. Harper is reacquainted with neighbor Sam Taylor (Michael Rady), a handsome but disheartened estate lawyer and single dad, who is dealing with his own loss, still grieving the death of his late-wife, and Sharon meets his adorable 10-year-old daughter Mikayla (Michaela Russell).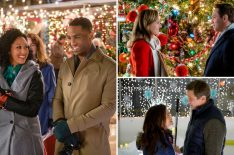 See Also
Get all the details on the 16 new original movies that are part of 'Miracles of Christmas.'
At the estate meeting, Sam tells Sharon that her grandmother prepared recordings and journals, listing Harper Family Christmas Traditions. In passing them on, her wish is for Sharon to complete 12 of them, one for each of their cherished "12 Days of Christmas" ornaments, before making a decision about whether the house (and town) are meant for her to keep and to stay.
However, in unwrapping the boxed-up ornaments, she finds the "Two Turtle Doves" ornament is missing, along with the "Partridge in a Pear Tree" ornament. And so, she begins her quest to locate them, as the "Two Turtle Doves" ornament holds an exceptionally special meaning.
Scroll through the gallery above for a sneak peek at the holiday magic!
Two Turtle Doves, Premiere, Friday, November 1, 9/8c, Hallmark Movies & Mysteries