13 'Supernatural' Characters Who Should Return For the Final Episodes 
With only seven episodes to go, set to air this fall on the CW, it's almost time to say goodbye to characters we've followed for 15 seasons — Sam and Dean Winchester (Jared Padalecki and Jensen Ackles).
But before Supernatural's farewell, we're hoping to see some familiar faces beyond the ones that have already been announced. And since the CW drama has proven time and time again that death doesn't mean the end, that includes those who have long passed, like our Bobby Singer (Jim Beaver) and the Harvelle mother-daughter duo. There are also a couple whose returns would make sense, like Eileen (Shoshannah Stern).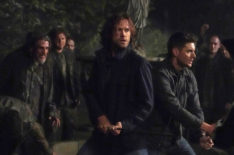 See Also
You can now stream the first 13 episodes of the final season.
Scroll down for the characters we'd love to see one last time.
Supernatural, Final Episodes, Fall 2020, The CW