Steve Harvey Gets 'Family Feud' Mafia Makeover, Plus Check Out His Boldest Looks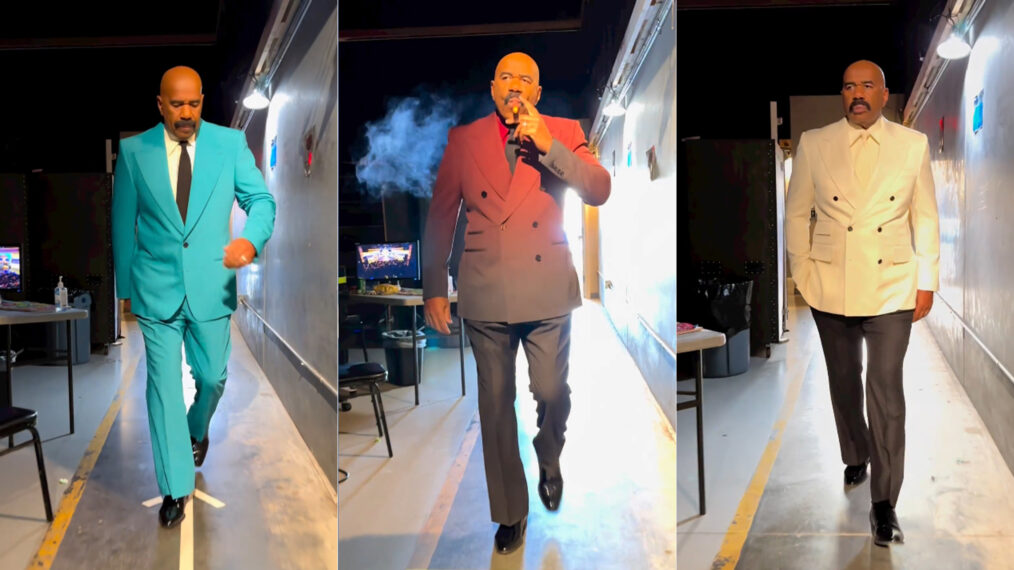 Steve Harvey will soon be rocking a stylish new look on Family Feud as the long-time host has undergone a mafia makeover.
Fashion stylist Elly Karamoh is the man behind Harvey's fresh appearance and took to Instagram on Tuesday, March 21, to share a preview of the game show host's classy tailored suits and a breakdown of the four-month-long process behind the new look.
In a series of clips, we see Harvey strolling down a corridor, smoking cigars while showing off a range of sharp Dolce & Gabbana suits in green, black, white, turquoise, and pinstripe.
"He's back with a new look, a new silhouette, and a new tailoring cut! We have officially turned family feud into Fashion week," Karamoh captioned his post.
View this post on Instagram
"The wonderful Dolce & Gabanna team and I have been working on this new cut and wardrobe for about 4 months," he continued. "We all met in Abu Dhabi last December to discuss how we can improve & change Mr. Harvey's suit fit through what we (the viewers) see on TV… then we discussed how far we could design a new look/ Style direction for Mr. Harvey's 2 shows that would appeal to his global audience."
Karamoh went on to explain how they elevated the shoulders by using a technique called "Pagoda," which creates a "beautiful illusion of better posture and amazing elegance on a suit."
For the pants, Karamoh, who is also the stylist for Harvey's adoptive daughter and model Lori Harvey, said he was inspired by the likes of A Bronx Tale, Casino, and Goodfellas to get the "perfect subtle bell bottom movement."
"I loved every part of designing this new cut and looks!" he concluded. "I took me back to my suit designing days. It reminded me that the key element of menswear is truly measurements, proportions, and tailoring then the fashion comes in."
Check out the gallery below for some of Harvey's most memorable looks from over the years.