Meredith's Fate & 6 More Questions for 'Grey's Anatomy's 2021 Return
Grey's Anatomy may have gotten off to a bit of a later start than usual (like the rest of the fall lineup for the 2020-2021 season), but it still managed to leave off on quite the cliffhanger before its midseason break.
Dr. Meredith Grey (Ellen Pompeo) has moved from working on the COVID floor to being one of its patients in the first episodes of Season 17, and as a result, has seen both her late husband Derek Shepherd (Patrick Dempsey) and friend George O'Malley (T.R. Knight). In the final moments of Episode 6, "No Time for Despair," she had to be put on a vent. But how worried should we be about her?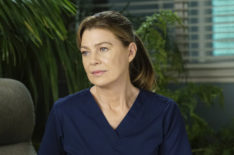 See Also
You'd be 'dark and twisty,' too, if you suffered as much as Mer has on 'Grey's.'
That's just one of several burning questions we have for when Grey's returns on March 4. Scroll down to see where the ABC medical drama left off with its relationships, an ongoing storyline from last season and more.
Grey's Anatomy, Thursday, March 4, 9/8c, ABC