Bryan Cranston Goes 'All the Way' for His Return to TV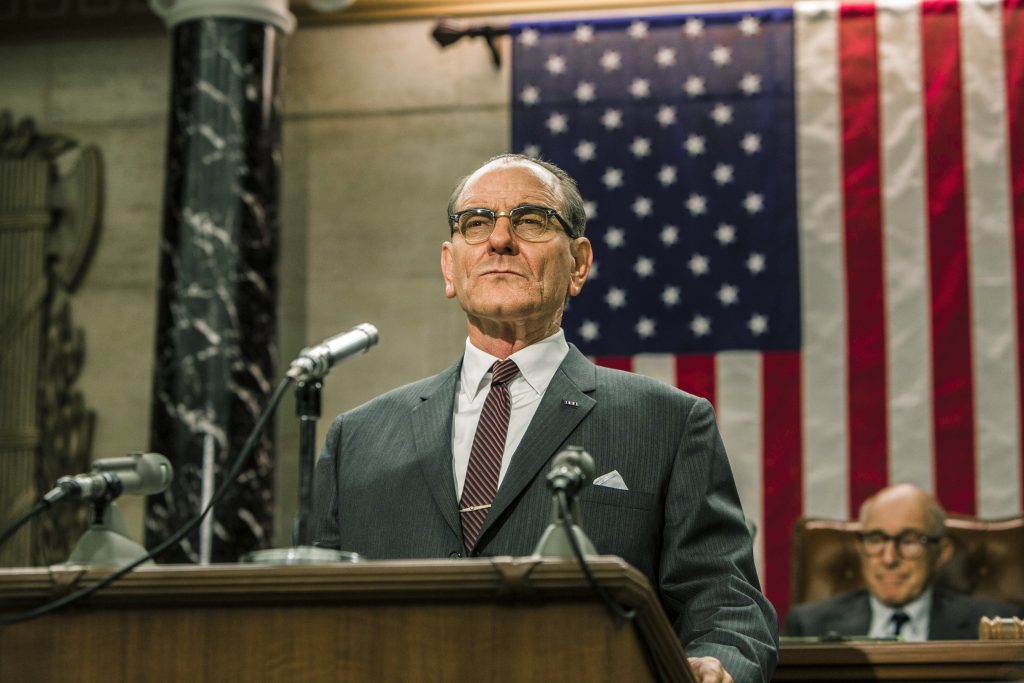 History has not been very kind to Lyndon Baines Johnson, and Bryan Cranston is here to fix that. The six-time Emmy winner stars as America's 36th president in HBO's All the Way, a crackling political saga that tracks LBJ from his sudden move into the White House following the Kennedy assassination in 1963 through his first epic year in office. This was a wildly progressive time in which LBJ—a rootin'-tootin' Democrat from Texas with a gift for bipartisan gab—convinced both parties to come together and outlaw racial discrimination via the landmark Civil Rights Act.
"Everything about LBJ was monumental—his accomplishments, his personality, his passions, his insecurities," Cranston says. "He was big and tough enough to bring a grieving nation together, yet he suffered from such deep emotional wounds that he couldn't take a nap unless someone was watching over him just outside the door."
Not only did LBJ team with Martin Luther King Jr. (played by Anthony Mackie) to end segregation, but he also created Medicare, Medicaid and consumer protection, doubled the education budget and launched public television. "Yet his positive impact is mostly forgotten," says director Jay Roach, who guided Cranston to an Oscar nomination in 2015's Trumbo. "LBJ's legacy was forever tainted by his disastrous decision to escalate the war in Vietnam. All the Way puts that in perspective."
This expert piece of damage control, written by Pulitzer Prize winner Robert Schenkkan, became a hit in the 2013–14 Broadway season, winning the Tony Award for Best Play. "It was the opportunity of a lifetime and it scared the hell out of me," Cranston confesses. "During rehearsals I'd call home in a panic, telling my wife, 'I've made a huge mistake! I don't think I can do this!'" But he went on to win a Tony for best actor. Steven Spielberg caught the show and quickly secured the rights, hiring Schenkkan to do the teleplay.
"These days there is great nostalgia for a time when politicians got s–t done, and there's no better example of that than LBJ's extraordinary partnership with Dr. King," says Schenkkan. "How they got the country moving in the same direction on civil rights is a testament to their mad skills."
Mackie had been asked to portray King many times before but always took a pass "because he was never written like the man he truly was—a bad motherf—-r," says the actor. "All the Way got it right: MLK could not only take a punch—he could give a punch too. Still, I haven't been this deathly afraid of a role since I stood on stage with Eminem in 8 Mile and pretended to be a rapper."
LBJ and MLK relied on each other at great risk to their own careers. "They were willing to be sacrificial lambs," Mackie says. "Had America turned against LBJ for ending segregation, he would have been thrown out of office. Had MLK's trust in LBJ failed, he would have lost the support of other black leaders and the Civil Rights Movement could have fallen apart. There was unbelievable pressure on both of them."
It didn't help that FBI Director J. Edgar Hoover (Stephen Root) had agents trailing MLK and recording his extramarital affairs. "We've seen nothing in modern history like Hoover's hatred for King," Mackie says. "It was like something out of Roman times." Hoover even tried to get LBJ to use the recordings against MLK, but the president refused. After all, he was a skirt-chaser too. And his wife, Lady Bird—a true steel magnolia, played by Oscar winner Melissa Leo—knew all about it.
"Lady Bird found a way to tolerate her husband's philandering because, like him, she had a great deal of ambition and an eye on the bigger picture," Leo says. "It was very American, actually. Mask all the things you want to keep secret and make sure everything looks swell out front." But Mrs. Johnson was no pushover. When their most trusted friend and political adviser, Walter Jenkins (Todd Weeks), was arrested for having gay sex in a YMCA restroom, LBJ was forced for political reasons to throw him under the bus, but Lady Bird did not. "She was a woman way ahead of her time," Leo says. "She quietly but forcefully defied her husband and supported Walter publicly. Completely remarkable!"
All the Way ends with the presidential election of 1964 and Johnson's victory over Barry Goldwater—one of the largest landslides in U.S. history. "The timing for this film couldn't be better," Cranston says. "We're in a crazy, unprecedented election year right now where it seems no one is reaching across the aisle. Young people need to know that this wasn't always the way. LBJ saw politics as a horse trade—you have to give something to gain something—and that made miracles happen."
All The Way, Saturday, May 21, 8/7c, HBO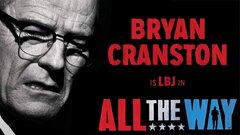 Powered by