The 7 Best and Craziest Finds in 'Storage Wars' History
Yuuuuuuup, that's right: Storage Wars is once again in full swing, and season 13 already has some amazing units. After being off the air since early 2019 with seemingly no plans for return, A&E surprised happy fans with more episodes of the reality staple.
Familiar faces Brandi Passante, Jarrod Schulz, Darrell Sheets, Dan and Laura Dotson, Kenny Crossley, Rene Nezhoda, Casey Nezhoda, and Ivy Calvin are back in business. But the one hard pill to swallow? Barry Weiss, the fan favorite and eccentric "Collector," is not back for the new season.
As we know, one man's unpaid storage unit is another man's treasure. And here are the series' biggest among those treasures, from newspapers fit for a King, to Darrell canvassing a unit on the way to a $300K find. Enjoy this trip down memory lane for the best and craziest Storage Wars finds of all time.
Best: My Little Pony Collection
There's nothing Jarrod Schulz loves more than getting a good deal on a locker. Well, besides a good deal AND a tidy profit from it. In Season 6, "My Little Pony" turned into "My Little Profit" after Jarrod and Brandi scored a locker for $50 and found every little girl's dream inside: A giant My Little Pony collection. After Brandi tells Jarrod the collection has value, the pair find out that it is worth $875. Shout out to Rainbow Dash and Twilight Sparkle for the big win!
Craziest: Vintage Peep Show Machine
Barry Weiss got a little more than he bargained for with this locker. Was he crazy to bid $1500 on one storage unit in Season 2? Either way, he was "feeling groovy" about it. And after finding a vintage arcade peep show, Barry took it to a silent movie historian to get it appraised. Given that he made over $5,000 on that one piece alone, it's safe to say he got his money's worth—and lots of laughs.
Best: A Newsworthy Win
Dave Hester couldn't help falling in love with this locker! Elvis may be the "King of Rock 'n' Roll," but Hester is surely the "King of the Storage Units" after this major win. Dave bid on a unit filled with 6,000 newspapers from the day Elvis Presley died, resulting in a $90,000 profit.
Craziest: The Wooden Head
It's always a great day when Barry walks away with a big win, even when it comes in the form of a wooden head with glass eyes and dentures. In Season 2, Barry found a sculpture by artist Mike Medow, valued at $6,000. Let's hope this major score didn't get to his head!
Best: Basically an Entire Art Museum
The folks at the Museum of Modern Art were no doubt shaking in their boots at this find! In Season 3, Darrell Sheets bought a unit filled to the brim with paintings by Frank Gutierrez, a Mexican Impressionist & Modern painter. The find resulted in a $300k profit. Not a bad day on the job, huh?
Craziest: Illegal Road Kill
We're not sure whether we enjoyed watching Darrell find road kill in a storage unit or listening to him try to pronounce "Le Creuset," but regardless, this is one for the books. While going through a storage unit with his granddaughter Zoie, Darrell found animal skeletons that "smell really bad" according to Zoie. We'll take your word for it, Zoie! After heading to "The Bone Room" for appraisal, the pair found out that the skeletons were illegal to sell because they were roadkill, and Darrell gave the bones to Zoie. Wow, what a lucky granddaughter!
Best: Rene's Giant Crystals
In Season 11, Rene bought a locker with two giant crystals…and an extra-special surprise — a roach. Yikes! After looking at the crystals, which weighed "at least 200 pounds," followed by a quick eBay search, Rene valued them at a "conservative" $25,000. What would he actually make on them? A gemologist said the museum-quality pieces were worth even more. Another good day at the office!
Storage Wars, Tuesdays, 9/8c, A&E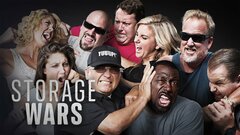 Powered by