What's Worth Watching: 'Pitch', 'Grey's Anatomy', 'Superstore' and more for Thursday, October 6
Pitch (9/8c, Fox): As often happens in the world of sports, even when fictional, it can take time to warm up. So it is with this steadily improving drama about pro baseball's first female player, Ginny Baker (Kylie Bunbury), whose third game with the San Diego Padres becomes heated for personal and professional reasons. She finds herself center stage in a "beanball war," facing a pitcher from the St. Louis Cardinals who put one of her teammates on the disabled list. If Ginny weren't already notorious enough, does she really want to put this sort of target on her back by intentionally hitting an opponent from the mound? Complicating matters is the Cardinals pitcher, who Ginny used to date when they were both in the minor leagues. What will this do to her hard-earned image of never romancing another ball player? All juicy avenues for drama, including behind the scenes, where team manager Al (Dan Lauria) is angling to keep his job by any means necessary.
Grey's Anatomy (8/7c, ABC): When Arizona (Jessica Capshaw) returns to the hospital from New York, she should know better than to ask if anything happens while she was away. Naturally, she gets caught up in the conflict between Alex (Justin Chambers) and intern Andrew (Giacomo Gianniotti).
Superstore (8/7c, NBC): Recently picked up for a full second season, this sleeper takes on several hot-button issues, when Jonah (Ben Feldman) refuses to sell guns to customers he deems sketchy, triggering an open-carry protest, and Glenn (Mark McKinney) tries to buy and stockpile all of the store's morning-after pills out of a sense of moral obligation which he can ill afford.
Inside Thursday TV: The CW delays its Thursday premieres a week, turning up the volume on the first part of a two-night iHeartRadio Music Festival concert (8/7c), concluding Friday, with acts including Billy Idol, Pitbull, Backstreet Boys and U2. … Some very touching moments on FX's Better Things (10/9c), as daughter Max (Mikey Marshall) gets an unwelcome reality check, causing a crisis of conscience only a mom like Sam (Pamela Adlon) can handle. Or can she? … Saturday Night Live veteran Cheri Oteri joins truTV's twisted high-school comedy Those Who Can't (10:30/9:30c) in its second season, as new principal Cattie Goodman.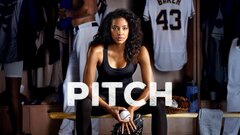 Pitch
where to stream
Powered by