'High School Musical's Joshua Bassett on Ricky's Growth and New Rivals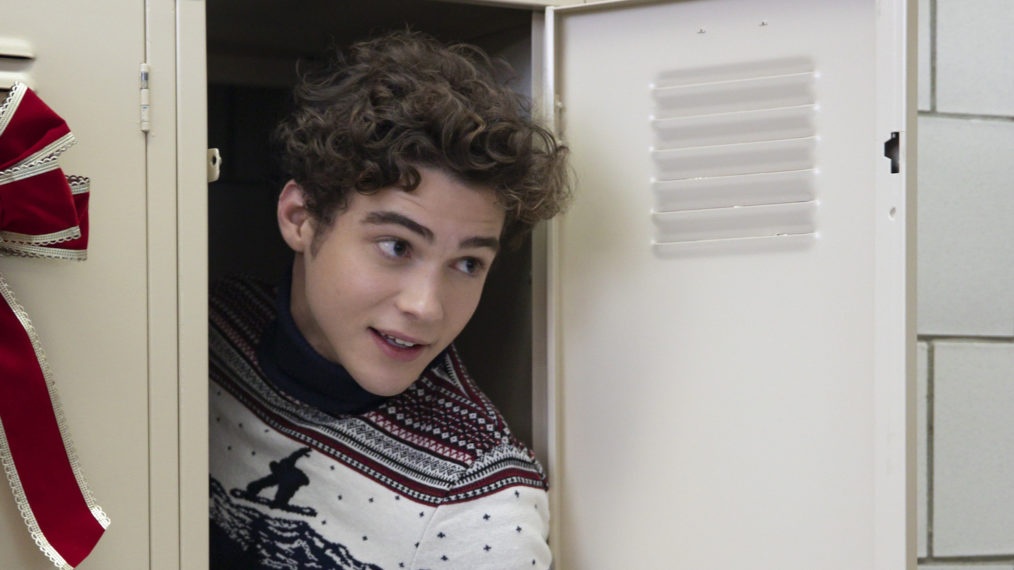 High School Musical: The Musical: The Series — Disney+'s coming-of-age dramedy inspired by the 2006 TV movie — came out of the gate as a smash hit, and Joshua Bassett is partly to thank. 
In the first season, Bassett brought his acting and singing chops to the role of Ricky, an aloof skater boy who auditions for his high school's production of High School Musical in a quest to win back his ex, Nini (Olivia Rodrigo). In a shock to the school's ensemble of thespian types and their HSM-obsessed drama teacher, Miss Jenn (Kate Reinders), Ricky lands the role, gets the girl and finds a community along the way.
We watched him become a bona fide musical theater kid, deal with family issues and finally break down the emotional distance he put between himself and those he loves. But Season 2, premiering May 14, brings another type of distance.
"Ricky's biggest fear is change," Bassett says. "And Season 2 starts with a lot of change. He finds out his mom is moving. He has to also move out of his house into an apartment. And then, of course, Nini is moving away." With his girlfriend off at a faraway theater boarding school, Ricky must pull together his fledgling emotional intelligence to make the relationship work.
"I think in Season 1, when he got scared or when he wasn't sure what to do, he sort of ran away," Bassett explains. "Now in Season 2, he's doing the opposite of that — maybe even to a fault." Whereas Ricky once struggled to articulate his feelings, now he's woefully romantic. 
"If there's one thing Ricky does," Bassett laments, "it's an overcorrection. And sometimes when you're so afraid of screwing things up, you end up actually making them worse."
As Ricky struggles with his new relationship challenge, a new nemesis arrives for East High: a rival school's drama department with kids who aren't afraid to play dirty. Led by their intrepid director (Derek Hough), the students face off in a high-stakes theater competition — and the melodrama does not stay onstage. Bassett gushes that episodes will feature original music ("There are really some special songs that people are going to carry with them for a very long time"), fresh faces ("People are going to be obsessed with the new characters") and plenty of surprising plot twists ("Literally, every episode has jaw-dropping moments that people will freak out about"). Still, the focus is on the characters and relationships fans have come to know and love.
Expect the same healthy mix of hysterics and heartbreak with supporting cast stand-outs Ashlynn (Julia Lester), Gina (Sofia Wylie) and Carlos (Frankie A. Rodriguez) getting arcs of their own. And, now that the show's creator, Tim Federle, knows his largely true-to-age cast well, "He's able to write our characters even better," Bassett adds. "So that's cool to see how they influence each other."
Production on the season was paused due to the pandemic, and, knowing how much comfort and distraction he himself found in TV during that time (Tiger King, specifically), the actor says he returned to set with an even greater appreciation for the role shows can play in people's lives. "I think that we're bringing so much joy and peace to other people; I think this show is really important for people," Bassett says.

And, he notes, it's not just for high school theater kids. "I have 45-year-old dudes come up to me who are like, 'Hey, man, my kids watched your show and forced me to watch it, and I ended up actually loving it!'" Bassett says.
"People who maybe didn't expect that they would like it — or that even I wouldn't expect to like it — are actually big fans of the show. And that's how I know that there really is something in this for everybody."
High School Musical: The Musical: The Series, Season 2 Premiere, Friday, May 14, Disney+
Powered by