Michael Weatherly's Farewell to 'NCIS' Tony DiNozzo: 'I Was a Mess'
By the time you read this, Michael Weatherly will have given away his last farewell gift (a Swiss Army knife engraved with Big Kiss) to the NCIS crew. His trailer will no longer be parked on the show's lot in Santa Clarita, California. Tony DiNozzo, the role he inhabited for the last 13 years, won't be on the series' call sheet. The characters rumored to be replacing Tony, FBI vet Tess Monroe (Sarah Clarke) and British MI6 agent Clayton Reeves (Duane Henry), will be introduced in the May 10 episode. And Weatherly himself will soon know if his new CBS pilot, Bull, which is based on the early career of Dr. Phil McGraw, has been picked up for the 2016-17 TV season. Either way, life for the actor will be very different.
But, right now, he still has five days left before he films his final scene as boisterous, unpredictable man-child Tony on the show that made him a household name. Weatherly is feeling wistful while sitting in that trailer. "It's an epic time for me," he says of shooting NCIS's season finale and Tony's departure, "personally, professionally, emotionally. And it's been wonderful. Pauley [Perrette] and I just filmed Abby and DiNozzo's goodbye in the squad elevator and it was very, very beautiful. The Tony and Gibbs [Mark Harmon] stuff in the episode is also very satisfying. All of it."
Perrette, however, has a different take. "I was a mess," she admits. "I told the guys on the crew that the only acting I was really doing were the parts when I wasn't crying. The rest is totally real."
RELATED: CBS Confirms Michelle Obama's NCIS Cameo
When Weatherly announced in January that he was leaving NCIS at the end of the season, it wasn't that much of a surprise. It had been 13 years, after all. "I meet 20-year-olds who were in first grade when we started. Basically, their entire lives they've known me as 'Hey, you're on television, playing that guy,'" he points out. His exit, in fact, was a long time in the making. It's something, says Weatherly, he began thinking about seriously two and a half years ago, in Season 11, after the departure of Cote de Pablo, who played his verbal sparring partner and love interest, Ziva.
"Their great dynamic, the badinage and sparring and flirting between those two characters and how they would swing from siblings to near lovers and back to buddies," he says, "that was gone, and then I got to the point where I felt I'd stayed at the party for too long. I would look around the room and other people were really in sync and having fun. The show was a huge success, but I just suddenly realized that I probably had other things that I should be doing. And then the wanderlust set in. I directed a documentary. I have a production company. And I wanted to spend time with my family." (Weatherly and his doctor wife, Bojana Jankovic, have two children, a son and a daughter. Weatherly also has a son from a previous marriage.)
So, how did he end up signing on to possibly star in another hour-long drama on the same network right after leaving NCIS? First, Bull is produced by Steven Spielberg's company Amblin and has Donnie Brasco writer Paul Attanasio at the helm. Second,Weatherly fell for the script. "I sat down my wife and I said, 'We have to have a serious talk, because I think I just fell in love,'" he says. "Her eyes popped open wide and I said, 'No, no, with a script.'" Whether or not Bull works out, the actor is thrilled to eventually get back in the game. "It's exciting, really," he insists. "The last time I auditioned for a TV show, it was Dark Angel in 1999. I had a black-and-white headshot and a VHS cassette with my demo reel."
But first he wanted to give Tony a proper goodbye. And why not? He learned a lot from the guy. "Tony allowed me to do the widest range of acting I could ever imagine," he says. "I got to do Steve Martin Jerk-style and wild-and-crazy-guy comedy. I got to do my Cary Grant, my James Bond, my Indiana Jones. I got to chase bad guys, dive into water or climb up a building and shoot my gun. Then I'd go into the interrogation room and do strong, dramatic stuff. I'm forever grateful for that."
RELATED: 7 NCIS Guests Who Went on to Become Stars (PHOTOS)
During Season 12, Weatherly informed his bosses that this year would be his last on NCIS. "I think initially they thought I was negotiating my salary or trying to box clever," he remembers. "Then very quickly they realized I wasn't and I wanted everyone to be able to prepare and put time into Tony's leaving." And it worked. If you haven't noticed, Tony has had a big year that's led to a lot of soul-searching. He briefly, and unhappily, took over as boss in the season premiere. He reunited—twice—with his true love, Jeanne Benoit, who is now married to another man. He had his identity stolen, then had to hear from two of the thieves how lame his life had become (OK, that was funny). All of it, showrunner Gary Glasberg says, is leading to a major decision Tony will make in the finale, the plot of which revolves around the team's continued hunt for rogue British spy Jacob Scott (Vince Nappo), who recently murdered their former chief (Alan Dale).
"We started talking about it six months ago, and we knew we had to acknowledge that Michael had been part of the show since Day 1," Glasberg says. "So the episode had to show Tony in all the different ways we've come to love him. We also knew that the reason Tony DiNozzo would ever choose to leave his NCIS family would have to be something really significant. What we came up with delivers some real heart-wrenching, emotional moments."
But viewers be warned: A large portion of those tears will be for someone close to the team who will be fighting for his or her life. "There will be carnage and death and destruction," Weatherly warns. "I've never worked harder on an episode to hit all the right emotional beats."
RELATED: How TV Guide Magazine Welcomed the Birth of NCIS
On the lighter side, he says he also went to great lengths to include several inside jokes for DiNozzo fans. Plot elements from way back in the NCIS story vault will resurface as the episode unravels. And since Scott is out to avenge his wife's death during a sting operation by targeting current and former NCIS agents, the finale features cameos from several familiar faces from NCIS history ("It's probably the largest guest cast we've ever assembled," Glasberg says).) Just don't expect the return of Ziva David. While Glasberg insists "that relationship is part of who Tony is and that impacts his reason to go," de Pablo already confirmed at a recent screening of her film The 33 that she didn't shoot any new scenes for the episode.
And don't for a minute think this is the last you've seen of Anthony DiNozzo. Weatherly promises he'd be willing to return if the story needed it, and he'd especially like to turn up in other parts of the NCIS franchise. His appearance on NCIS: Los Angeles earlier this season was specifically engineered so Tony could test those western waters. "I wanted to do L.A. because I knew I was leaving," he admits. "I really wanted DiNozzo to touch all corners of the NCIS universe before I had to go."
He also sees himself nipping back just for a powwow with Harmon, Perrette and Co. "I know that if they let me come by and visit, I'll come by and visit," says the actor. "There's always a free lunch going on here in Santa Clarita."
But, right now, in his trailer, Weatherly is already envisioning life as a regular Joe—even if it's just for a little while. "The other day, I was in a restaurant and I told the waitress, 'I'm going to the bathroom, but I'll be right back.' It's because I'm so used to being supervised. Right now there's someone standing outside with a walkie-talkie getting ready to pull me to rehearsal. In real life, you don't have to ask permission to go to the bathroom. Nobody just comes up and starts fixing your hair. I also don't have to wear a plastic and rubber badge," Weatherly says. "I'm very excited to get back to reality for a few months, even if I have no idea what the future holds. As Pinocchio would say, 'I'm a real live boy!'"
NCIS, Season Finale, Tuesday, May 17, 8/7c, CBS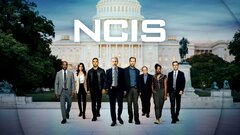 NCIS
where to stream
Powered by