'Country Comfort' Star Katharine McPhee on Her Sitcom With Music on Netflix
Talk about going off-key. Aspiring country music singer Bailey Hart (Katharine McPhee) gets kicked out of her band — by her own boyfriend — and, after she leaves in a heartbroken huff, her truck breaks down during a thunderstorm.
Those tough breaks cue up a life-changing turn of events in the music-driven comedy Country Comfort that creator Caryn Lucas compares to comfort food. "It's warm, it's fun and it's family," she promises. "There's something in it for everybody."
In the storm, Bailey stumbles upon the Haywood ranch, headed by charming widower Beau (Eddie Cibrian), who's in need of a sitter for his five precocious kids. And just like Fran Drescher in The Nanny, Bailey suddenly has a new life calling. Or at least a temporary one.
"She quickly realizes that she can selfishly still pursue [singing] by dragging the kids along to auditions. She never gives up this idea of becoming a star," says McPhee. The musically inclined kiddos don't mind — middle child Dylan (Griffin McIntyre) even becomes Bailey's manager!
American Idol alum McPhee was drawn to the fact that the series incorporates performances: "I've never watched any sitcoms that had music in them. I thought it was a new element and a fun challenge." Naturally, McPhee nails it. Her rendition of the Tammy Wynette classic "Stand by Your Man" in Episode 3 is a particular standout. Ready to sing along?
By John Hogan, with additional reporting by John Russell
Country Comfort, Series Premiere, Friday, March 19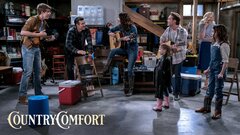 Powered by