'Chance': Hugh Laurie's New Series Has a Hitchcockian Vibe
Maybe it's all the double binds. Or the presence of bondage gear. But Hulu's screen adaptation of California crime novelist Kem Nunn's 2014 psychosexual thriller Chance—about a middle-aged psychiatrist having an affair with a younger, borderline patient running from a murderous, crooked-cop hubby—could have gone in two very different directions.
There's the pseudo-sexy Silk Stalkings route, titillating to teenagers and late-night junkies. And there's the stylish, classy Hitchcockian route, which is intellectually stimulating to just about everyone. Luckily, showrunner Alexandra Cunningham had a really good map in front of her.
RELATED: Hugh Laurie on His Triumphant Return to TV in The Night Manager
"I'm a big Hitchcock fan," says Cunningham. "The book is set in San Francisco, like Vertigo. Jimmy Stewart's character wasn't a doctor, but it had a mysterious woman who's crazy, and he's crazy. I rewatched the film and saw that the story really is similar—not in a copycat way, but in its DNA. Then when we began filming and bringing the city into it, I really saw all the sharing it does with Hitchcock's work."
It also helps when you cast the perfect icy blonde, Gretchen Mol, as your femme fatale, Jaclyn Blackstone, and her alternative personality, Jackie Black. And Hugh Laurie, the closest living heir to the Jimmy Stewart mantle (even if he is British), is playing hero Eldon Chance.
"Those are some mighty big shoes to fill. If I had a model for approaching the story and its tone, Vertigo would be it," Laurie says. "Of course, it's impossible to capture Jimmy Stewart's elegance and the passion that he brings to that film in particular. I also can't wear the suits, because nobody dresses like that anymore. It's a great shame. But I did the best I could."
Another difference: Unlike Stewart's character in Vertigo, Eldon has some interesting friends, who are much more useful in such a twisted situation than, say, Barbara Bel Geddes's bra designer bohemian in that flick. While trying to sell his vintage French furniture for some extra cash (soon-to-be-divorced Eldon is being hounded by the IRS), he hooks up with streetwise gay antique dealer Carl (Clarke Peters) and his war-vet sidekick, Big D (Ethan Suplee).
RELATED: Hulu Gets Hugh Laurie to Play Another Complex TV Doctor
"They're both outsiders who found each other and formed their own little community, of which Chance becomes a part," says Nunn, who's also an executive producer. "It sounds corny, but any show worth its salt explores questions like how and why we live the way we do. Is there a better way to live? What does it mean to come together in the community? That's something the series wants to do."
Big D is also, well, super tough. He can spot a thief blocks away and take out three of them single-handed (which happens in the premiere). "Eldon and D are about as odd a couple as couples get," Laurie says. "Chance has become so isolated from other people because of his job. He's a lonely man, floating in the midst of this terrible ocean of unhappiness in the form of his patients, who are so bereft and in many ways beyond help. Big D is a man who is so steeped in the visceral and the danger of life, but also the prize and triumph of it. Chance kind of has a crush on him."
Hugh Laurie as Eldon Chance
And this carpenter has a way with weapons, which comes in handy as the season progresses. He makes them himself on screen, a skill Suplee didn't have when the series started shooting. But things have changed. "I took a course in blacksmithing," he says. "I actually made a knife—a pretty badass one too. It was awesome."
Something else you'll see later in the season: the sex. "There is some intimacy in the show. Part of what drew me to Chance was his vulnerability, his nakedness. And, unfortunately, from time to time that does involve actual, physical nakedness," Laurie admits. "I wish I'd been able to lay my hands on a 25-year-old fit young man who could have taken my place, but unfortunately the viewers are going to have to deal with what's there. That provides its own kind of trauma, having to see me in that situation." Chances are, we'll enjoy it.
Chance, Premieres Wednesday, October 19, Hulu.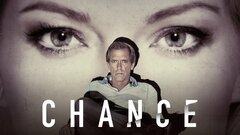 Chance
where to stream
Powered by