'Designated Survivor': Kal Penn on How Working With Obama Helps His New Show
Kal Penn may be Hollywood's most reluctant Method actor. In 2009, the star—who at the time was on Fox's long-running medical hit House—took a sabbatical from the entertainment industry to spend two years toiling away in the Office of Public Engagement for the Obama administration.
RELATED: On Designated Survivor, Kiefer Sutherland Plays an Unexpected President
Now, he's visiting 1600 Pennsylvania Avenue again to play Seth Wright, a speechwriter for the freshly appointed POTUS, Tom Kirkman (Kiefer Sutherland), in ABC's new thriller Designated Survivor. Surely he must have recognized instantly that this part was tailor-made for him? "Not at all—just the opposite," Penn says cheerfully. "I had no interest in merging those two worlds."
Despite that initial resistance, Penn decided to read the pilot and was pleasantly surprised to find that Designated Survivor wasn't attempting yet another fly-on-the-wall depiction of life at the White House. On the contrary, Kirkman is a low-ranking cabinet member who suddenly has the presidency thrust upon him when a terrorist attack strikes the U.S. capital, wiping out the country's top officials.
At the core, he's not a political animal—and neither, discovered Penn, is the series. "This isn't a show about politics, which is the best thing about it," he says. "It's a high-stakes drama that's designed for everyone across the political spectrum."
Sufficiently hooked by the premise, Penn had one remaining question: What's next? "He wanted to know where we would be taking his character, this season and beyond," creator David Guggenheim says. That far-reaching answer is already unfolding. While Seth was initially skeptical of Kirkman's capacity to lead, the two men share an idealism and sense of patriotism that will make them increasingly simpatico.
In Episode 4, Seth will even make a major jump in rank. "A situation arises with the current press secretary, so Seth fills in," explains Guggenheim, "and earns the spot."
The promotion will raise Seth's profile—as well as provide Penn, a veteran of lighthearted fare like CBS's How I Met Your Mother and the Harold & Kumar movies, with more chances to demonstrate his acting chops. "Kal has so many different gears—he brings gravitas and intelligence, but he's also great at being light and breezy," says Guggenheim. "With so much darkness on our show, that's really helpful."
His versatility is being put to use behind the scenes too. Penn is drawing on his government experience to act as a consultant. "We were already game for using his insights and the request to do it in an official capacity came from Kal," says Guggenheim. "He knows all these great realistic details, like what it's like in the White House during March Madness and how the president follows the brackets."
RELATED: Kiefer Sutherland's ABC Thriller Designated Survivor Adds Maggie Q and Kal Penn
Adds Penn, "I'll weigh in on what the employee badges look like, or who would be sitting in what spot. With some things, the producers come back and say, 'Thank you very much for the notes, but that doesn't make great TV.' And that's good, because this is not a documentary."
Penn's unique résumé has earned him plenty of cred with his costars. "Even though our scenes are make-believe, seeing the Oval Office set makes you sit up straight and feel the weight of what gets done in there," Sutherland says. "I was wondering if that historic reverence ever goes away. Kal still talks to President Obama regularly, which is kind of cool—no, it's very cool—and he said he's going to text him and try to find out for me."
The relationship that Penn maintains with the first family seems to have only deepened his understanding of why viewers might crave the same access. "You don't often get to see folks in those types of positions humanized—eating their meals and tucking in their kids," he says. "People always want to know what the Obamas are really like, and they're exactly the way they appear to be."
As for how Penn is faring with his own clash between reality and fiction? "I've been trying to figure out how to describe it, because my friends have been asking me how similar Seth's role is to what I was doing," he says. "It doesn't even compare. Working at the White House, I'd walk in every day feeling humbled by my opportunity to serve the country. Here, I'm walking onto a TV set with a latte. It's fun."
Designated Survivor, Wednesdays, 10/9c, ABC.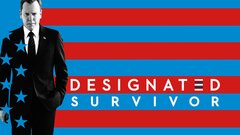 Powered by