'Longmire': Robert Taylor on How Loyalties Will Be Tested In Season 5
Longmire, TV's last authentic Western, based on Craig Johnson's best-selling novels, returns to Netflix for a fifth season of Wyoming justice. The popular character-driven drama deals with the independent folk, mostly white and Native American, whose lives cross in fictional Absaroka County. It's a rugged slice of America dominated by ranches and a big casino, where trouble seems to grow with every turned card, and Sheriff Walt Longmire (Robert Taylor) and his small but determined band of cops try to contain the damage.
The Australia actor, who is currently busy making a "huge shark movie" in New Zealand, gives TV Insider a peek at the upcoming season, which premieres on Friday, Sept. 23.
The trailer for Season 5 is very intense! Where are we when the season premieres? Things look bad for Walt and his sort-of girlfriend Donna (Ally Walker), who were last seen with a bunch of Walt's enemies bursting into his place.
It's a few hours later and things certainly get a little hairy. The show is called Longmire, so there's probably a good chance I make it. [Laughs] After finally solving his wife's murder, it would be a little much to kill off Donna, though you never know!
RELATED: Longmire Season 5: More Heat Between Walt and Vic? (VIDEO)
Is there a theme this season?
Betrayal and disloyalty. And questioning what is loyalty. Walt feels let down by a couple of people close to him. Of course, maybe his expectations are a little high.
Speaking of disloyalty, in the finale we saw Walt's daughter Cady (Cassidy Freeman) open a big check from the casino's owner and Walt's nemesis Jacob Nighthorse (A Martinez).
How about that? What we can't forget is that what Walt's late wife loved most was her daughter and what she hated most was the casino and how it could break people's lives. Walt agrees with that. So that check addressed to Cady is an interesting dilemma and it makes for a tough situation. Maybe the sheriff, though, see things in black and white. He's not the kind of person who accepts excuses for bad behavior.
Does Cady go to the dark side?
I think she's a pretty straight arrow, but people can be manipulated. Walt just wonders what Cady's mother would think. But Cady always wants to protect her father—mostly from himself. [Laughs] But he's kind of pig-headed. It's great fun and that's why I like playing him so much. I can be a little like that myself to be honest. So I sympathize with him a little bit.
The other person he cares most for, Henry Standing Bear (Lou Diamond Phillips), seems to have made a deal with another of Walt's least favorite people, the reservation cop Matthias (Zahn McClarnon), who might be in cahoots with Nighthorse. What can you say about that?
Let's say that Henry and Walt have a confrontation. And once again there's a problem of disloyalty, this time between Walt and his oldest friend. I believe people can't see the forest for the trees and see that Nighthorse is a master manipulator. He may believe that he's helping his people, but the damage he's wreaking is worse than any benefit he's bringing. Walt believes anybody involved with him is drinking the Kool-Aid. It hits a lot closer to home this season with the two people Walt is closest to.
From the grave, Barlow Connally (Gerald McRaney) is still bedeviling the sheriff. Walt righteously killed the bad, rich guy, but does it still bother this deeply moral man?
It does. It's enduring and gathering pace. Barlow may be dead but he ain't going away.
Cady tells her father that she can't represent him in the suit that Barlow's people have instigated against him. What are they suing Walt for? Wrongful death?
Well, yeah. Walt did kill him, but the fact was that Barlow was trying to kill him. Saving his own life seems reasonable, but there are some very smart people coming after Walt big time.
Walt is not a happy cowboy this season.
No, he has a pretty tough time of it. But he'll keep fighting to do the right thing. He will find out some stuff about himself through this though.
Where is Vic (Katee Sackhoff), his deputy, good friend—and maybe more—through all this?
That relationship is very interesting this season. There's an understanding that develops. She's the one who can stand up to his pig-headness; and points out a few truths, so there's a strong connection—which is all there is at the moment. I can't get into any relationship stuff, though.
Is Donna still around?
She's there; that's all I'll say. And [Cady's sometime boyfriend] Eamonn [Josh Cook] is back as well.
RELATED: Longmire Revives for Revenge and Romance on Netflix
Who else is back?
Malachi [Graham Greene] is back. He's in it a lot and he's still wicked. [Laughs] And Omar [Louis Herthum] is also back. We all demanded it, because everybody loves him. He's assisting Walt on a case, and he keeps getting in the way. [Laughs] But at least he's very loyal!
OK, so Walt is down emotionally, is he still getting beat up and otherwise physically manhandled this season?
Oh, sure. They beat me up every year, always breaking a chair over my head. This season I was constantly in freezing water in the middle of winter, with ice floating by. [Laughs] It's OK, it's fun. The only thing I ask when I'm about to be smashed up is, "Don'tmake it too bad, so I have to spend too much time in makeup!" I want no more than 10 minutes in makeup getting all this goop on me. So no bruises!
You sound like a kid playing—as they said back in the old days—cowboys and Indians.
It's great. I own an old Bronco and I drive to work through mountains and across rivers and I get to play this cowboy and wear a hat and everybody's really nice to me. And they actually pay me to do it.
Has Longmire been picked up for another season yet?
Not yet. I think the chances are excellent and we all love doing the show. We're not done with it. Plus, I don't think we can end the series on a cliffhanger. And I keep hearing people really like the show.
Our readers certainly do.
I can tell you that one of the EPs said that Netflix and Warner Bros. asked how long I would keep doing it. I had to pretend to be coy but I'm going to do this show as long as I can. As long as I can stand up.
Speaking of fun, give us some scoop on your shark movie.
It's about a massive shark, called MEG, as in Megalodon. It's like the biggest shark movie ever made; a big studio picture filming in New Zealand and China.
And do you get beat up in that, too?
Well, it's a pretty big shark and it's hungry. [Laughs] It's hilarious. We're doing all this swimming training. I'm the best swimmer there—of course. [Laughs]
Longmire, Season 5 debuts Friday, September 23, Netflix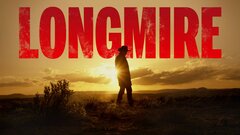 Powered by