Pitch Imagines the First Female Major League Ballplayer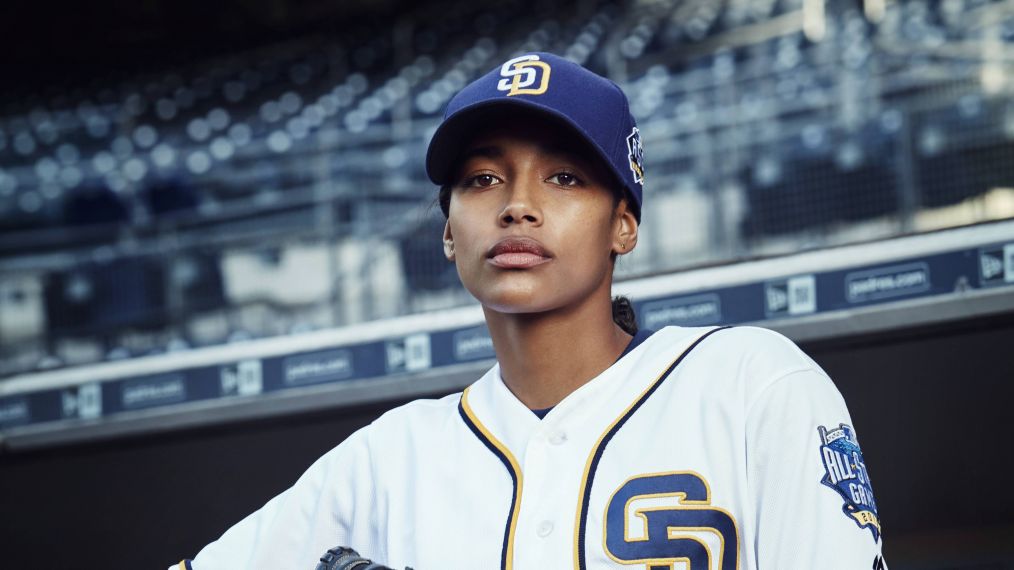 Now this is a curveball: Fox's new drama Pitch imagines a world with the first female Major League Baseball player.
Kylie Bunbury stars as Ginny Baker, a minor league pitcher who makes history when she's called up to play for the San Diego Padres. Wall-to-wall media coverage—and hot takes aplenty—ensues. "We say it's the Jackie Robinson story, but with real-time social media, with a 24-hour news cycle," executive producer Rick Singer says. "Obviously there is an enormous amount he had to go through, and he had to contend with...[Now] anywhere you go, anyone has a phone and can film you at any time. Your every word can be broadcast in a moment's notice and what's the ramifications of that."
"There's very little margins for error for this young girl, who is really in certain ways, is very stunted in certain ways: very single-minded and sheltered," he continues. "And now she's out in the world as a young woman, and there's not a lot of margins to make mistakes the way young women do. And at the same time, trying to fit in with her teammates, trying to forge that bond, trying to deal with that she's taking someone else's roster spot. There are factions of the team that don't want her there, that don't think she deserves to be there.
As for Ginny, "she doesn't enjoy being a spectacle," Bunbury says. "She's a regular girl, with a lot of drive, who knows she needs to work really hard."
RELATED: More Scoop on Fall Shows
MLB has been very involved with the series, allowing the Pitch cast and crew to film in real ballparks and use team names and uniforms. It even gave input into the most plausible way Ginny might make it to the big leagues. "We originally conceived her as a reliever, but commissioner Rob Manfred was the one who said [the way she makes it in the pilot] was the most likely scenario," explains Singer. "Relievers now are flame-throwers. It was more realistic that she would be an [up-and-comer] who is called up because a couple of guys have gone down."
Bunbury was cast in the project before a full script was written in order to give her time to train before filming started on the first episode. "I had about two-and-a-half months to learn how to pitch before we started the pilot," she recalls. "I spent three days a week pitching, working on my mechanics, my long toss, watching MLB Network, learning through osmosis. And reading as much about baseball as I could...The mechanics is a lot like a dance. It's very technical, but once I made the movements like a dance, I could work on each individual part of the movement of the pitchers, and then put it all together. And I was boxing three days a week as well, with a personal trainer, which helped with my arm strength and my whole body."
RELATED: Pitch Recruits Rita Wilson and Lyndsy Fonseca
When it came time for Bunbury to take the mound for the first time, in-character, at the Padres' Petco Park, she admits "it was a real moment" she experienced. "It's so powerful walking out on that field," she says. "And then walking out on the mound; the scope and how ominous the stadium is. It was really powerful. I kept thinking, how many people would die to step foot on this? I didn't take a moment for granted. It was powerful. There was some electricity going on. There was energy flowing in there."
And while Ginny's journey on the field is a key part of the series, Singer stresses the players' lives beyond balls and strikes will also be emphasized. "The baseball calendar will serve as clothespins, but we're interested in personal stakes," he says. "The sport is just a backdrop to see people doing extraordinary things."
Pitch, Series Premiere, Thursday, September 22, 9/8c, Fox