'A Toy Store Near You' Series Creator Brian Volk-Weiss on Season 2
With Netflix's The Toys That Made Us and The Movies That Made Us, creator Brian Volk-Weiss has perfected the art of making adults remember what it's like to be a kid again. The same is accomplished through A Toy Store Near You, the streaming docuseries (available on Prime Video, Apple TV+ and Tubi) spotlighting vintage toy stores from around the globe.
Season 1 of the show helped owners spread awareness to the masses and tell their business' unique history while fighting to stay afloat in the middle of the pandemic. Now, Volk-Weiss, also the founder of The Nacelle Company, is aiming to continue the effort with a second round of small businesses.
TV Insider had a chat with the producer about his many projects and all the things that made us.
What kind of an impact has there been on the toy stores featured in A Toy Store Near You Season 1?
Brian Volk-Weiss: I think the majority of the impact that has been seen is from the exposure. One of the interesting things about 2020 is a lot of these toy stores were really struggling in April, May, June —that's when we made the decision to greenlight the show. By August, the majority of these stores were having the best year in their history. Maybe a tiny bit was because of A Toy Store Near You. The theory is, a lot of people got freaked out because of COVID and stopped spending money. Come middle to end of summer, people realized they had all this money saved, and have been spending a lot of money on vintage toys, primarily online.
Is there less of a focus on the pandemic in Season 2 and more on the vintage toys?
We got a lot of feedback and hundreds of comments saying they were already depressed because of coronavirus, and that they were sad to see so much of that in shows. They turned it on because they didn't want to think of COVID. We took that very seriously as our job as entertainers. Season 2 is 90 percent toys and maybe 10 percent of the trials and tribulations of 2020.
Were there one or two stores that you were particularly excited about having this time around?
Kokomo Toys & Collectibles [located in Indiana] is literally on my bucket list in the same way that going to the pyramids in Egypt is on my bucket list. I'm very excited about Super7 as well. That's an absolutely unique store that makes their own products. None of the stores have that capability the way that they do. I was not familiar with Farpoint Toys [in New Jersey]. I would now argue it gets an honorable mention on my bucket list. I will definitely go there once before I die.
You have quite a vintage toy collection yourself. What is your top toy?
I probably have five to 10 pieces tied for first place. One of my favorites is a prototype Luke Skywalker that Mattel made when they were trying to get the license away from Hasbro in 1998. I have a miniature prototype of FX-7, the medical droid from The Empire Strikes Back. That never went into production. I also have a crazy Star Trek collection. I just got an Enterprise starship model. I've wanted one of those for close to 10 years.
The Holiday Movies That Made Us launched this month with Elf and The Nightmare Before Christmas. What made you choose those two films to start with?
We always want a multi-generational film. We want to have at least two generations, if not three or four, support a film. People ask why we didn't do It's a Wonderful Life. I'm 44, as big as this movie is for me and people older than me, I don't think it has been accepted by the most recent generations. The other problem is that there is a little girl who was three-years-old when that movie was made. She is the last person alive to be a part of that movie in front of and behind the camera. It is hard to do an episode like that. With Elf and The Nightmare Before Christmas, you have the generational attraction with amazing stories about the making of the movie. We hope to do more.
Is there any topic you still want to dig into for your That Made Us franchise?
We're actively developing The Games That Made Us and The Music That Made Us. We're doing something with cartoons that I can't talk about yet. There will be no shortage of nostalgia-based content from The Nacelle Company in 2021 and 2022.
With these projects, it's amazing how much is done through remote tools.
About 99 percent of what you saw in The Holiday Movies That Made Us was all shot remotely. We built these remote camera kits and sent them to everyone. The people had to set it up themselves, and we conducted their interviews over Zoom. A Toy Store Near You was shot entirely by the toy store owner on iPhones. Our Disney+ show Behind the Attraction was shooting remotely after March for the most part. If you told me on January 1, 2020, that we would be conducting dozens of interviews for multiple series without leaving my home office, I would have said you're smoking crack.
This has been a challenging year and you've provided so much content to make people feel good.
I had a call with Ed Neumeyer, the creator of RoboCop on Thursday. I think this is my life. It was the luckiest break of all-time that we got The Toys That Made Us greenlit at Netflix. Before then, my entire career was stand-up comedy based, which I love, but the fact anyone is paying us to make shows about RoboCop or Back to the Future is still very surreal to me.
A Toy Store Near You season 2, December 25, Apple TV+, Prime Video, Tubi and other select platforms.
The Holiday Movies That Made Us is available now on Netflix.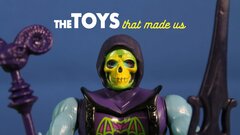 Powered by