Taniya Nayak Talks Season 8 of 'The Great Christmas Light Fight'
The illuminated bar continues to be raised on ABC's The Great Christmas Light Fight, the competition show in which families decorate the heck out of the holiday for a $50,000 prize. The show, which premieres December 9 with back-to-back episodes, will be complemented by its Heavyweight special for the third year, featuring a first-ever parade with floats.
Judges Taniya Nayak and Carter Oosterhouse have their work cut out for them as they venture across the country to hear the family stories, witness the awe-inspiring displays and, ultimately, choose a winner. Interior designer (and regular Restaurant Impossible collaborator) Nayak talks to TV Insider about Season 8 and Season 9, currently in production.
Given what's going on with COVID-19, let's start with Season 9, which you're shooting right now, and which premieres next year. I'm sure it's very different than what you've been used to.
Taniya Nayak: It's been an interesting experience for both Carter and I. It's so wild to [watch the current season] and see the big crowds and the hugging. We've been filming now with strict guidelines. The energy is still there, though; we just don't have the big crowds we used to have.
In March after the pandemic started to take hold, people were decorating their houses with Christmas lights as a way to boost their spirits. What did you make of that?
I was smiling ear-to-ear. For them, it was a sign of hope and love. Just to know what we've been doing year after year [can evoke] that kind of emotion, but times a million… We saw people putting up a simple string of lights to bring joy to people's lives.
Do you find the $50,000 matters even more to the families this year?
Every year the money was always nice [to get], but it was never a driving factor for anybody because they decorate anyway. Given the pandemic and hard times we're facing, it will probably be a little bit sweeter to have that money. But these guys are doing it for a cash prize or no cash prize. They do it because they love doing it for themselves and their communities.
The heart of the show is the stories behind the displays. What can you tell us about Season 8's families?
On one particular episode, which I'm really excited about, there is this team of women, generations of women, putting the lights up together. It was really fun and different to see. I hate to say it, but stereotypically there is just the dad and son. These women decorated their farm, so it was super unique. All the stories where it's generations of families [working together], where the grandchildren are now helping, it makes you feel good.
What do you look for in a winning display?
Carter and I have our certain things we like to look for. For me personally, I love when a person can connect their design to a story, because that makes me more connected to their display. In general, the criteria does change a little bit [over the seasons] due to technology. I still have a soft spot for traditional light displays, but I'm always open to these exciting light shows because anything that can evoke happiness and energy and smiles, I'm all about it.
What would you say the overarching theme is of Season 8?
Larger than life. It had probably the biggest displays we've ever seen. I know Carter saw a Christmas parade that was over the top. I saw the farm. I had another homeowner that featured something [akin to] the wall flats in Hollywood studios that look like the size of buildings [and were all lit up]. It was unbelievable. It was a really dark area where they lived, so for them to light it up like that was really special.
Think we'll ever get an international edition of The Great Christmas Light Fight?
I'm dying for it to go international. I've also been dying to do a show where we surprise someone at their house. That would be fun.
Are you tired of lights when you get off the road or inspired to do more at your own home?
The inspiration is definitely there. Both Carter and I get home just a few days before Christmas. When you see the best lights out there, it's hard to compete. I think when we get home we're just so happy to be back with our families — and lucky to just get our trees up. And some stockings.
The Great Christmas Light Fight premieres, December 9, 8/7c, ABC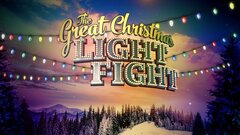 Powered by