'American Gothic's Elliot Knight on Season 1's Killer Reveals
Spoiler alert! Do not read this if you haven't finished American Gothic Season 1.
CBS' American Gothic wrapped up its season-long Silver Bells Killer with one heck of a twist: Sophie (Stephanie Leonidas), Cam Hawthorne's (Justin Chatwin) estranged wife/mother of his son, is the daughter of the notorious serial killer…and his accomplice.
But the Hawthorne clan wasn't totally in the clear: daughter Alison Hawthorne-Price (Juliet Rylance) realized Sophie's true identity and teamed up with her to take out Hawthorne matriarch Madeline (Virginia Madsen).
However, Sophie didn't totally get away with it, as cop Brady (Elliot Knight)—who is married to the youngest Hawthorne, Tessa (Megan Ketch)—realized what his sister-in-law was up to…at least before she managed to escape.
We spoke with Knight, who previously appeared on ABC's Once Upon a Time and How to Get Away with Murder, about the show's twists, turns, and possible future.
At what point were you and the cast told the Silver Bells Killer's identity?
We weren't actually ever told by anyone. We found out when we were given the script for the final episode. So literally up until the last minute, they kept us guessing, and we were the whole time. But it wasn't until they sent that out—only a few days until we started shooting it actually—and that's when we all knew. The whole season long, no one confirmed or told us anything.
Did anyone in the cast or crew actually guess what went down?
I mean, everyone likes to claim they guessed correctly, which I doubt. It was someone else's guess that they shared with me, and when they did, I put a few pieces together and thought that would actually make sense. But I never settled on the right person myself. I had different thoughts, and I think everyone was also wondering if it was them at some point or another. So I was trying to think, "Could it be Brady? Could that make sense?" because that would be a huge twist. They calculated it really well, I have to say. We were all very surprised and very impressed at the writing in the last couple of episodes to wrap it up to the conclusion that they did.
RELATED: American Gothic: Meet Catalina Sandino Moreno's Christina (PHOTO)
It's impressive how few people guessed it, and at the same time, so much was laid out there in hindsight.
The [clues] were in there the whole time, that's what's so insane. Because we would ask [creator] Corrine [Brinkerhoff] all the time when she was on set, we'd ask her different questions to try and figure it out. And the one thing that she did say was there are clues during the whole season; they put them in there, so it's not just going to be some random person you've never met before or never heard of. But, it's up to you to find them and to put them together. Unfortunately, I did not! So maybe I won't end up being a detective, I'll stick to acting.
Corrine did say no one ever guessed correctly. It's a pretty impressive that they were able to mask it very, very well. It's so easy to just point fingers in any direction and hope for the best, but they did a really good job.
And there was a limited pool of suspects to begin with…
Exactly, you'd think that at some point, someone would have been like "Oh, it's this person." But no, that never happened. At least not with us anyway.
How did knowing where it was going impact your viewing experience? Were you able to watch the show and pick up on things you didn't notice while filming? Or do you not watch your projects?
I mean, there are always moments or certain scenes come back on and I'm like, "Oh jeez. Here we go. This is terrible." But no, I love watching it because from an actor's perspective, a lot of the time, especially in TV, it's so fast-paced. The only time you really get to appreciate the product is when it's on TV for us because we are not so much involved in the writing or the editing. Especially for this show, there are a lot of secrets kept and information is sort of withheld from us for our own benefit. So, I've really enjoyed getting to watch the show each week and see [what happens]. Yes, we're there in the room each day filming and making it, but there's so much more work that goes into making it what it is when it's all kept from the audience at home. So, I'm always fascinated to see how they manufacture the product.
[It was noticeable] how clever they were with her character's placement. In fact, you never asked her too many questions, but she was there. She was absent enough for there to be room for further possibility. But, she wasn't absent enough for you to constantly raise questions and notice that she wasn't there, and so you didn't suspect her of anything. And they struck a really wonderful balance with that; they fooled me anyway, so I can assume it was wonderful and not that I'm just completely oblivious.
RELATED: Meet the Suspects in CBS' Killer New Drama, American Gothic
Very often in shows about serial killers, the cops end up looking less than bright, because they can't solve the case too fast. Brady didn't seem to fall into that trap. What kind of conversations did you have with the writers over the course of the season about avoiding that trope?
He was very sharp and very committed to his duty. I thank the writers for being able to create a complex enough story with so many different layers that he could continue to explore with the same level of commitment without assuming he didn't know what he was doing or that he didn't care that much. They provided a lot of depth for him to delve into. I had so much fun playing Brady. It's nice to play a cop who knows what he's doing despite what others might think or say. He trusted his gut, and his gut was right in the end.
You know, there were actually moments where they would actually stay away from the stereotypical cop storyline and have it unfold to make sure he's not just some official body that's going through the motions. He's very much a person and character that's involved with all the other members of the Hawthorne family—he just has a slightly different dynamic to his work that he's involved with. He was just in a really difficult position, but it felt like you were always worried for him because his intentions were true and good.
The family got its own version of a happy ending in the one year later jump…though Sophie is still out there and Alison's involvement is still a secret. What was your take on the family getting to that point?
What I love about the fast-forward to one year later is that it kind of shows 'Yes, everyone's happy now,' and it's almost a screen shot of a perfect life. But, you know everything that's underneath that, everything that's lead to this point. The father of the family has died, been killed, and the mother who died—again, also murdered. People in the family, everyone's secrets have sort of come out by this point, and everyone has a very checkered past. I think it's an interesting observation of a life where everyone likes to act as if they are all happy and it's all perfect, but anyone and everyone can have any number of skeletons in their closet. You just have to open the door, I guess, and see what's inside…if you want.
Have you heard anything about whether the show will return for Season 2?
I haven't heard anything myself. There's obviously a lot of people involved in that decision. I know there's been a few ideas thrown around for a Season 2, and there's a couple that I love the idea of. But, we have to wait and see what the network is thinking of doing and what they think would be the best fit. There have been talks of a sort of a linear continuation of the story with these characters, and I'm not sure how that would work at this stage because we've obviously, it would have to be a whole different story, and we've explored so much of these characters. There might even be a possibility of getting to explore different characters and different stories, which would also be extremely exciting as an actor for years, you know? But at the moment, nothing solid. I'm still waiting for word.
Did you guess the American Gothic killer?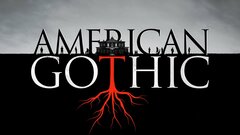 Powered by