What's Worth Watching: 'Better Things', a 'Star Trek' marathon, 'Chelsea' and more for Thursday, September 8.
Better Things (10/9c, FX): Best known for her vividly sardonic supporting roles on shows like Louie (on which she's a writer-producer) and Californication, Pamela Adlon shines in this tart autobiographical comedy, which she created with Louis C.K., as single mom Sam Fox, a struggling Hollywood actress. "I'm dating my daughters. They're my love life," she wearily confesses to a very recognizable fellow performer as they patiently wait to audition (the visual punch line in this scene is priceless; you might even call it unreal). There's such authenticity in Adlon's chemistry with the three terrific actors playing her kids: Mikey Madison as sullen teen Max, Hannah Alligood as spiky middle child Frankie, and Olivia Edward as adorably manipulative Duke. Even when they exasperate her, a feeling of exhausted love and pride suffuses this very special show. It's hard to imagine it getting any better, though in subsequent episodes, it does.
Star Trek Marathon (8:30/7:30c, BBC America): Pegged to the time and date of its premiere on NBC 50 years ago, episodes of the enduring sci-fi classic (which originally aired from 1966-69) will be shown in a marathon through Sunday, reliving the adventures of the U.S.S. Enterprise and its immortal crew, led by Captain James T. Kirk (William Shatner) and Mr. Spock (Leonard Nimoy). The legend continues on big and small screens, and while these episodes from the first two seasons (uncut and digitally remastered) may seem quaint in design and cheap in effects, the purity of Gene Roddenberry's vision of a hopeful future rings true.
Chelsea (streaming Thursday, Netflix): When the kids from Netflix sensation Stranger Things appeared on The Tonight Show With Jimmy Fallon last week, they played a scene opposite a faux Barb. Now guests of Chelsea Handler, breakout stars Millie Bobby Brown, Gaten Matarazzo and Caleb McLaughlin welcome Shannon Purser—better known as ill-fated sidekick Barb—as she makes her first TV appearance to address her unlikely rise to cult folk-hero status.
Inside Thursday TV: NBC anticipates the official launch of Sunday Night Football this weekend with an NFL Kickoff (7:30/6:30c) special, followed by the Carolina Panthers taking on the Denver Broncos (8:30/7:30c). … Even UnReal hasn't gone here yet, as TV presents what Logo is calling a "first of its kind" all-gay dating show. Lance Bass hosts Finding Prince Charming (9/8c), in which 13 male suitors live under the same roof, competing for the attention and affections of what used to be known as a Confirmed Bachelor.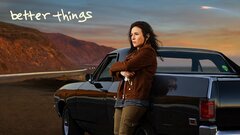 Powered by