'Better Things': Pamela Adlon on Carpools, Sexy Roles, and Being Confused With Constance Zimmer
Pamela Adlon has done it all: toddling in a diaper derby in a 1960s episode of Today, scoring an Emmy for voicing pubescent Bobby on King of the Hill, playing a hot proto-Vulcan timekeeper on Star Trek: The Next Generation and crashing an orgy on Californication. Now the quadruple threat is writing, directing, producing and starring in Better Things, a comedy based on her life as an actress and single mom (her Louie costar Louis C.K. is an executive producer). We chatted with Adlon (above, with Olivia Edward) about her wealth of story material.
RELATED: FX and Louis C.K. Ponder the Future of Louie: Is It Over, Or Will It Continue In Perpetuity?
Your character, Sam, has an awkward time appearing in a sexy TV show while also driving her teen's carpool. Did that happen to you?
Yes. It's like leading a double life, because I'm a mom all the time but then, part of the time, I'm doing this very adult-oriented show. Then, the rest of the time, I'm voicing animation series for kids.
Do you think that side of acting is harder for moms than dads?
Not at all. I remember doing a particularly sordid scene on Californication with a giant, perfect guy who I thought was a ringer from porno, but he had never done anything like that. I've coached many people through their first nude scenes.
Better Things also makes light of how you're often mistaken for UnReal's Constance Zimmer, who guests as an actress up for the same part as Sam—along with Modern Family's Julie Bowen.
You go to auditions, always see the same people who look just like you and you're working so hard studying the script when the beautiful, cool blonde walks in and it's like, "Why am I even going over this?" The Constance bit is a little wink to show the people that mix us up that we're in on it too!
Better Things, Series Premiere, Thursday, Sepember 8, 10/9c, FX.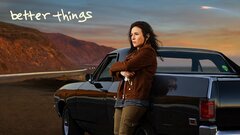 Powered by