'Dark Matter': Two Finds Out About Her Origins (VIDEO)
One of the most intriguing aspects of Syfy's Dark Matter is that the crew of the Raza were working with a clean slate, having had their memories wiped while in stasis. But they're starting to find out about their pasts slowly but surely.
RELATED: Dark Matter: The Crew of the Raza Pursue Another Customer (VIDEO)
In this exclusive clip from Friday's episode, Two (Melissa O'Neil) finds out about her origins as the crew tries to pull off a risky operation inside the headquarters of Dwarf Star Technologies. And, as the clip shows, those origins aren't all that pleasant.
More info on the show, including fun facts on each episode can be found at the show's page on Syfy's web site.
Dark Matter, Friday, August 26, 10/9c, Syfy.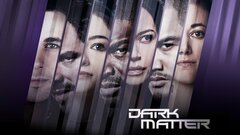 Powered by