Andrew Zimmern Lets the Cabbies Make the Decisions on 'Driven By Food'
Andrew Zimmern has traveled around the planet many times over in pursuit of not only the most unusual foods different cultures eat, but how different cultures closely tie their whole social identities around food. So it's not a shock to learn that, when he lands somewhere and wants to know where to eat or have fun, he knows exactly who to ask: the person driving him from the airport.
"I think people forget that cabbies are citizens, so they have their own habits, and maybe like to eat. Or maybe they don't think food is important at all, maybe they're just obsessed about sports or some other facet of their life," Zimmern tells TV Insider. "They drop lots of people off in lots of different places, so they know where things are. But to me, the most undervalued piece of the whole puzzle is they pick people up at places, and even when you're not talking to your cab driver, he's listening to you in the back of the cab with whoever you're with, or on the phone."
RELATED: Driven By Food: Andrew Zimmern Rows in Rio (VIDEO)
It was that in mind that Zimmern pitched the idea of Driven By Food, which debuted on August 16, to his Travel Channel bosses. In each episode, Zimmern spends the day with a few different cab drivers in each city he visits, and they take him to their favorite places to eat, play, or even think. In the premiere episode shot in Rio de Janeiro, cabbies take Zimmern to rowing practice with Olympic hopefuls, a nightclub with great food, to the foot of the Christ The Redeemer statue, and to one of the best chefs in the city's largest favela neighborhood.
"We actually just encourage the cab drivers to take me wherever they're going," says Zimmern, "I want to spend the day with them. It's a wonderful, wonderful way to view a city."
Zimmern wanted to do a show like this "for the longest time," but isn't surprised it's taken him until now, almost a decade after his signature show, Bizarre Foods, debuted on the Travel Channel, to make the idea a reality. "I think it is incredibly smart, and speaks to the quality of the leadership at Travel Channel that they say, 'Hey, we're going to try some new things, even with our established hosts,'" he says.
Still, it's not like Driven By Food is unfamiliar. "It's still the traditional travel meme. Host goes to foreign country, hooks up with locals, sees things through a different set of eyes. That's not a new idea. I like the idea of doing it in a cab. It's the place I start every trip anyway."
Among the cities Zimmern travels to in the first season are Medellin, Colombia; Hyderabad, India; Bangkok, Thailand; London, England; and Nashville and Chicago here in the States. "If we don't have the right stories and the right characters in a place, I don't want to go there," he says. "We isolated those places as unique spots with unique people driving cars that we thought would take me to interesting places."
The cabbies are chosen via a careful screening process, with scouts in each city finding the drivers that might be interesting, who all get interviewed on camera, recorded on mobile phones. But Zimmern isn't told who the cabbies are, just to meet the car at a certain place and time. "The team would rig the cab ahead of time and my producers simply told me, [and] the London one is a very obvious one, but they had me stand outside a curb outside a certain hotel, at a certain time, and look for a black cab. They basically described the gentleman, and when I saw him approaching, stick out my hand and wave him over. Thus began my London trip with one of the cab drivers."
Each episode has its own flow, with the days he spends with each cabbie sometimes broken up and sometimes presented as a single segment. One of the things Zimmern wants to emphasize, though, is that the cabbies really do take them to their favorite places. "I was just thinking about the driver in Medellin, who was a little older than me, but every day he had to exercise at a certain time. He kept a change of clothes and his handballs, and we just stopped and played handball in the middle of the day. It was great, I love sports and keeping score, so it was super."
Ask Zimmern about his experiences with cabbies around the world, and he'll tell tales about being robbed, or about having a driver that was so drunk that he had to take the wheel, but one of his favorites came when he and his wife were in Beijing, and the cabbie dropped them off in a dark area next to a recommended restaurant.
"Out of the fog came a bunch of guys with guns. It turned out that a high-ranking member of the Communist Party was dining in that restaurant that night, so he had all his security out. They were scared that two people walking down the street were coming into do someone in the restaurant harm. We were like, 'No, no, we're just trying to eat here.' One of the security people spoke a little bit of English and it was just a hysterical thing. They ended up helping us, they ended up driving us home that night to the hotel. It was great."
RELATED: Bizarre Foods Celebrates Its 200th Ep With Some Philly Favorites (VIDEO)
But the show also gave him a chance to bond with the cabbies, because he was in places they felt comfortable. For instance, in the Rio episode, a vivacious female driver, one of the few women cabbies in the city, took Zimmern to her favorite lunch spot, a Japanese restaurant where many of the dishes are served in cone form. "It was god-awful, almost to the point of being inedible. But it was something that she could afford, and she liked it. It was a safe place for her that had the right hours. She was so proud to take me there," and it was there that she opened up to Zimmern about her life. "It was one of those lessons where being a good guest is sometimes more important than anything else. It reminded me, again, how much of a culture snob and food snob I can be."
Zimmern has a pilot at Travel Channel in the works called Bucket List, which he wouldn't say much about, but the title has a lot to do with the show's conceit. Of course, he will still be eating all manner of bugs, organs and eyeballs on Bizarre Foods, because, as he puts it, "I still love a good eyeball."
Andrew Zimmern: Driven By Food, Tuesdays, 9/8c, Travel Channel.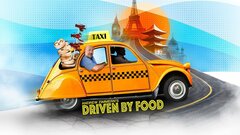 Powered by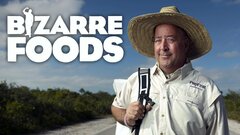 Powered by