'Driven By Food': Andrew Zimmern Rows in Rio (VIDEO)
Any traveler worth his or her salt knows that the best way to find a city's best places to see, eat, and have fun is to ask your cab driver. The driver knows the city well, and knows where he or she has been taking locals to do just what you're looking to do. That's the premise of Andrew Zimmern's new Travel Channel series Driven By Food.
RELATED: Sorry, New York: I'll Have What Phil's Having's Phil Rosenthal Proclaims Los Angeles the Better Food City
Zimmern, longtime host of Bizarre Foods, travels to different cities in the new series and relies on cab drivers (pre-selected, we'd imagine) to set the agenda for his trip. In this exclusive clip from the series premiere on Tuesday, Zimmern's driver in Rio de Janeiro takes him to a training session with one of Brazil's leading rowing coaches, where he trains and rows with two Olympic hopefuls (who didn't end up making Brazil's team for the Rio games, but at least one of them has a good backup plan… She's an opera singer).
Take a look at the clip below.
Andrew Zimmern: Driven By Food, Series Premiere, Tuesday, August 16, 9/8c, Travel Channel.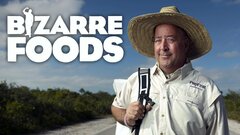 Powered by