'The Walking Dead: World Beyond': Whodunit? (RECAP)
[WARNING: The following contains MAJOR spoilers for The Walking Dead: World Beyond Season 1 Episode 8, "The Sky is a Graveyard."]
When Episode 7's shocking ending was over, one member of the group was dead, another almost certainly dead, and one (probably) to blame. Or is he?
That's the central question of "The Sky is a Graveyard" — whether or not Silas (Hal Cumpston) killed Tony (Scott Adsit) and Percy (Ted Sutherland). The latter can't be found, but given that there was a trail of blood leading to the river, the group assumes he's dead. (So he'll for sure be back in the finale. That's just how it goes. No body, no death.)
Let's break down the ins and outs of the episode — its surprising conclusion.
Deliberation, Deliberation, Deliberation
Much as expected, the group can't reach a decision on Silas, who can't remember what happened (convenient!). Elton (Nicolas Cantu) is determined to prove he isn't guilty, because, as he says, Silas has only ever acted violent when he has to defend himself or others. On the other side of the spectrum, Hope (Alexa Mansour) is convinced he's guilty. The adults can't come up with a good way to get him back to the Campus Colony. What's the group to do?
Talk about it, and talk about it, and talk about it — that's what they do. Huck (Annet Mahendru) says they have to keep "the greater good" in mind and make sure every decision they make serves that. Felix (Nico Tortorella), rightfully, ponders the logistics of keeping everyone safe when one group member could become violent at any moment. Iris (Aliyah Royale) is caught somewhere in the middle; she's not too creeped out when Huck pulls out the sketches she made that Silas kept, but she's not convinced he's innocent, either.
See Also
We chat with Cudlitz, who played Abraham Ford, about behind behind the camera for two out of three 'Walking Dead' shows.
More Flashbacks
While everyone tries to make up their minds, Silas sits, tied up, outside. He has flashbacks to his home life, which was apparently with CRM (the three-ring symbol shows up on a piece of fruit, and his walker-proof house had extremely well-made bars on it). He remembers his father attacking him and him attacking his father in return, which led to his dad's death and subsequent turning into a walker.
Silas shut himself in a room to escape his father's walker, his mom got home, he ran to her defense and killed the dead man…and ended up horrifying his mother. Silas' actions were ruled self-defense, and his father was no doubt abusive.
—Hope's Confession
Anyway, no one has to rule on anything. Silas breaks free of his restraints and tells Iris, who comes to see him, that he's leaving. "I'm sorry you met me," he says, "and I'm sorry I'm not the hero you thought I was." He goes, and, in the immediate aftermath, Elton opts to go with him to keep him from "living the lie" that no one cares for him. Hope, panicked, blurts out the truth about what happened to his mother and sister. (We don't actually see this on-screen, as it's done through voiceover as Elton walks away.)
As the episode ends, that's where things stand. Silas and Elton haven't met up, the rest of the group seems determined to continue the journey to New York, and Percy might or might not be dead.
But that's not all. The final scene is a flashback of a few days earlier, during which Lt. Col Kublek (Julia Ormond) waits in a cabin in the woods for a report from "her." Who's "her?" Well, Huck, who's also her daughter. Surprise!
See Also
The 'Younger' star also explains what makes 'World Beyond' more of a challenge than the TV Land drama.
Other Observations
Just when I was ready to be excited about this show, it drained my enthusiasm like dishwater from a sink. Why did we need to spend a whole episode debating whether Silas did it? This was 45 minutes of World Beyond spinning its wheels.
The dialogue is…just not good. For example, Hope's "You've got the wrong sister" line to Huck. No teenager talks like that.
Having Hope's confession be done through a flashback voiceover was cheap. That's a huge moment, and we should've been able to see Elton's reaction as well as her devastation.
We can all agree Percy's not dead, right? I'm still not convinced he didn't have a hand in Tony's death. All things considered, it's possible we'll never get an answer on the whole Tony-death thing, which is hugely unsatisfying.
OK, if Silas was part of CRM, how did he get to the Campus Colony? Did they exile him or something? And if that's the case, why on earth wouldn't Silas talk to the rest of the group about what CRM was like? It's not like he was too young to remember it when he was there.
Rating: 1/5. I had high hopes for this show after last week's surprising ending, but I'm not sure whether World Beyond can improve from here. It repeatedly bungles huge emotional moments and doesn't do much to develop its characters beyond shock-value scenes that don't lead anywhere. I want to be excited about it, but it's just not delivering.
The Walking Dead: World Beyond, Sundays, 10/9c, AMC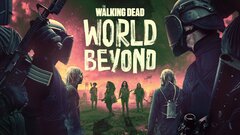 Powered by