Election Night Ratings: Fox News Tops TV Coverage, ABC Leads Broadcast Networks
The early numbers are in for Election Night, and while NBC walked away with the win among adults 18-49 (1.7 rating across the night), ABC came out on top in total viewers (5.9 million). Note: ABC, CBS, NBC, and Fox's include a mix of different programs across the time zones, and will be updated later.
But it was Fox News that came out on top, with an average of 14.03 million viewers in primetime. CNN took second with 9.41 million.
Here's the breakdown for Tuesday, November 3, 2020 (numbers are fast-affiliate based):
| | | | |
| --- | --- | --- | --- |
| Time | Show | Adults 18-49 Rating | Total Viewers (millions) |
| 8 p.m. | Your Voice/Your Vote: Election 2020 (ABC) | 1.4 | 5.9 |
| | CBS News 2020 Election (CBS) | 1.1 | 4.5 |
| | NBC News Special: Decision 2020 (NBC) | 1.7 | 5.8 |
| | Fox Democracy 2020: Election Coverage (Fox) | 1.1 | 3.5 |
| | Penn & Teller: Fool Us (CW) | 0.2 | 865,000 |
| 9:00 p.m. | Your Voice/Your Vote: Election 2020 (ABC) | 1.5 | 6.1 |
| | CBS News 2020 Election (CBS) | 1.2 | 4.6 |
| | NBC News Special: Decision 2020 (NBC) | 1.7 | 5.7 |
| | Fox Democracy 2020: Election Coverage (Fox) | 1.3 | 3.7 |
| | Penn & Teller: Fool Us (CW) | 0.1 | 806,000 |
| 10 p.m. | Your Voice/Your Vote: Election 2020 (ABC) | 1.5 | 5.7 |
| | CBS News 2020 Election (CBS) | 1.1 | 4.2 |
| | NBC News Special: Decision 2020 (NBC) | 1.7 | 5.6 |
| | Fox Democracy 2020: Election Coverage (Fox) | 1.2 | 3.8 |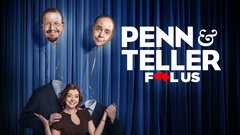 Powered by