'One Day at a Time's Shout-Out on 'This Is Us': Why It Matters
Fans watching This Is Us' Season 5 premiere may have been thrown by Toby's (Chris Sullivan) heartfelt speech to Miguel (Jon Huertas) about Rebecca's (Mandy Moore) Alzheimer's. "One day at a time," Toby said. "An excellent TV show, and a terrible answer to my question."
"It's a great show," he said. "The reboot was better."
"I know," Miguel quipped back. "I'm the one who started the hashtag to get it revived … You don't cancel Rita Moreno."
This Is Us is not shy about TV shout-outs – earlier in the episode, Kevin (Justin Hartley) drops a Grey's Anatomy reference on a stressed Madison (Caitlin Thompson). Toby and Miguel's exchange, however, dwells on One Day at a Time for a few extra beats.
Here's what you need to know about the show, its fight to survive, and the #SaveODAAT hashtag Miguel says he started.
A Beloved Reboot
One Day at a Time premiered on Netflix in 2017 as a reboot of Norman Lear's 1975-1984 sitcom of the same title. In the reboot, Justina Machado plays Penelope Alvarez, a divorced mother living with her two kids, Elena (Isabella Gomez) and Alex (Marcel Ruiz). The family's story is peppered with the antics of Penelope's mother, Lydia (Moreno) and their superintendent, Schneider (Todd Grinnell).
See Also
The series is relatable on so many levels.
Keeping much of the show's original premise, the reboot departs from its source material in a few ways. Now employing a largely Latinx cast, today's ODAAT centers on the Cuban-American experience while addressing a range of socially-conscious issues, like those in veteran and LGBTQ+ communities.
Lear reprised his position as writer and producer on the reboot, which, over its four seasons achieved "universal acclaim" on Metacritic and a near-100% approval rating on Rotten Tomatoes.
Cancellation and Renewal
In 2019, after three seasons, Netflix announced the series' cancellation.
Executive producers Gloria Calderón Kellett and Mike Royce, along with Sony Pictures Television, immediately began efforts for revival. These efforts, buoyed by a fan hashtag, #SaveODAAT (the one Miguel referenced in This Is Us), resulted in a fourth season pickup by Pop TV, a CBS-owned cable network. (CBS was the home of Lear's original series for nearly 10 years.)
See Also
The series has been revived after Netflix canceled it earlier this spring.
ODAAT's fourth season premiered on Pop TV in March 2020 before COVID-19 stalled production, and six episodes, along with a special animated episode about the 2020 presidential election, aired. Later in the year, without new shows to air because of the pandemic, CBS added Season 4 to its fall schedule (Mondays at 9/8c, with the last episode airing on October 26).
Can Fans #SaveODAAT?
Now, One Day at a Time faces uncertainty again. Kellett tweeted on October 26 that the fourth season may be its last.
Not gonna lie, y'all, this might be it for our little show. So come celebrate with us tonight as we air our season four finale on CBS at 10 & 10:30pm. We'll be LIVE tweeting BOTH coasts. We've loved making this show & we want to celebrate it tonight! Join us! @OneDayAtATime pic.twitter.com/Lobmh8kp9n

— Gloria Calderón Kellett aka Glorita to my family (@everythingloria) October 26, 2020
Still, Kellett and Royce appreciated the shout-out on This Is Us.
This was exciting to watch! Thanks for the shoutout, @ThisIsUsWriters! #ODAAT pic.twitter.com/YqtNDI67qT

— Mike Royce (@MikeRoyce) October 28, 2020
It's unclear if One Day at a Time will be saved for a Season 5, but its fans are certainly not giving up easily. #SaveODAAT still sees momentum on Twitter, and with the fanbase of This Is Us, the Season 5 premiere mention could draw new fans.
Whether One Day at a Time's run is over or we just have to wait for a Season 5 to air, we'll certainly feel the absence of the Alvarez family and their ever-endearing misadventures.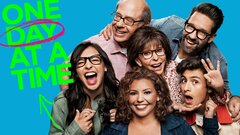 Powered by
Powered by