'Pandora's Priscilla Quintana on [Spoiler] Being Alive: It's a 'Total Mind Screw' on Jax
[Warning: The below contains MAJOR spoilers for the Season 2 premiere of Pandora, "Things Have Changed."]
Jax (Priscilla Quintana) may be a Pandora who's supposed to decide if the universe is worth saving, but she has much more personal problems at the moment, especially after the end of the Season 2 premiere.
First of all, when her boyfriend Xander (Oliver Dench) goes on a "smash and grab operation," to get a weapon fugitive Tierney (Tina Casciani) is after, he comes face-to-face with Jax's supposedly dead mother, Eve (Roxanne McKee). (Jax can only watch via video.) During the subsequent standoff, the scientist warns one of Xander's men to put the weapon down "very carefully," but he drops it after he's shot … and whatever is inside then consumes the fallen soldier.
That weapon is "dangerous," Quintana tells TV Insider, reminding us that her character says in the episode, "If Tierney wants it, you can bet it's dangerous."
Eve escapes through a portal, and Xander is the only one from his team to safely eject from the spaceship before it, too, is seemingly consumed. But with the connection to the data stream lost, Jax has no idea that he's still alive.
See Also
The star previews Season 2 of the sci-fi CW series and teases what's to come for her on 'Good Trouble.'
Here, Quintana previews what's next for Jax and Xander and her mother and reveals the "biggest threat" of the season.
At the end of the premiere, Jax thinks Xander's dead. The audience knows he's not, but how long will it take for Jax to find that out and what can they expect from their reunion?
Priscilla Quintana: Last season, it was really complicated between them. They were trying to figure out their careers and see where they balanced, and this season, at least for a good chunk of it, they are much more in sync and I think the writers and producers really listened to what the fans wanted to see when it came to Jax and Xander. They can expect more just good energy between the two, which me and Ollie were so happy about because we are the best of buds on set. We joke around and laugh all day and have the best times, so it was so fun shooting with him. I love working with him and Ben [Radcliffe, who plays alien Ralen] so much. Those are my two ride or dies on the cast, for sure. I love everyone else, but we've been in it since Day 1 and it's always fun to work together.
Jax now knows that her mother is definitely alive, but Eve seems to be up to some questionable things. How is Jax feeling about seeing her mother again? Can you tease anything about what'll happen when they cross paths?
As an actor, reading that in the script was so shocking for me. Just from Season 1, Episode 1, when New Portland and her family is dead and just imagining what that must be like, to think your family's dead and then to find out they're not and they'd actually not been truthful … That's done a total mind screw on her so she's just really trying to figure that out, trying to talk to her mom, but Eve is first and foremost a scientist before a mother, so that's something that Jax has to navigate and it's definitely a point of contention in their relationship.
There's another Jax out there. How big of a threat is she this season?
Huge. Probably the biggest threat, absolutely, because I play normal Jax, who is trying to decide whether or not this universe is worthy of saving. This evil Jax, as they call her, is jaded, she does not believe that it is, so it's basically the battle of good versus evil. They're both Jax, [but] one has been through more unfortunate experiences than the other one has. That's also a really interesting dynamic that plays pretty heavy into Season 2.
See Also
How will it end for the Winchesters?
Can you say how many different Jaxes we'll see this season?
More than two.
Jett is back and seemingly has turned over a new leaf, but he was doing something suspicious in Jax's room. Can he be trusted?
I guess it depends who you ask. Some might say you can only trust him as far as you can throw him, and some would trust him with their entire life. I think that he is a good person that is a little bit self-centered and can get a little jaded at times, but I do think that overall, he has a good heart.
Pandora, Sundays, 8/7c, The CW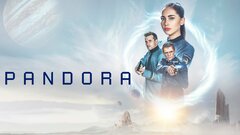 Pandora
where to stream
Powered by