Roush Review: 'The Get Down' a Fabulous Fable of Hip-Hop Revolt and Disco Dreams
In 1977, the Bronx was burning, an urban ruin symbolizing a New York City in deep decline. From these embers blazed a spark of exuberant creation, and the dazzling The Get Down, from filmmaker Baz Luhrmann and playwright Stephen Adly Guirgis, presents the birth of hip-hop as a raucous cultural coming-of-age story.
Think of this flamboyantly messy entertainment as a boldly stylized South Bronx Side Story, complete with violent rumbles, rooftop chases, trysts on fire escapes and an undercurrent of fatalism amid its youthful spirit. An intoxicating mosaic of choreography, wordplay and music, The Get Down serves up a blood-spattered disco ball as a metaphor for a star-crossed love story besotted with the radical arts of raw street poetry, graffiti and driving beats you can't help but dance, or possibly die, to.
More Roush Reviews: See What Matt Thinks About Other Shows
In this romanticized fable, set at a time when Kung Fu and a brand-new Star Wars were touchstones, DJ legend Grandmaster Flash (one of the series' producers) is depicted as something akin to a Jedi master (played by Mamoudou Athie), mentoring his own ambitious "Grasshopper," an upstart urban legend in red Pumas who goes by the name of Shaolin Fantastic (Shameik Moore, living up to the billing). To make his mark, Shaolin needs a wordsmith, and he turns to angst-ridden teen prodigy Ezekiel, or "Books" (Justice Smith), whose muse is the radiant Mylene (Herizen Guardiola), an ingénue yearning to break free from her oppressive religious upbringing to become the next disco goddess.
RELATED: Jimmy Smits on Getting Excited About The Get Down and Watching Himself in Reruns
The Get Down is at its best when it truly gets down, in over-the-top set pieces like a gang shoot-out at a glittery nightclub that takes on an operatic quality, or a giddily upbeat Glee-gone-gritty sequence when Mylene and her girlfriends "Turn the Beat Around" in a hair salon. The sensationally sultry Guardiola and the soulful Smith ground the series with their earnest longing, but Luhrmann's generous vision extends to the adults, including a dynamic Jimmy Smits as Mylene's protective uncle, a visionary councilman who dreams of "homes for my rainbow people."
Is it wrong to hope that everyone gets what they want in this gritty musical fairy tale?
The Get Down premieres Friday, Aug. 12, on Netflix.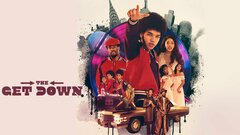 Powered by