Watch My Show: Gemma Arterton on the Sinfully Good 'Black Narcissus'
Black Narcissus, the lush (and lusty!) three-part series based on Rumer Godden's classic 1939 novel, stars Gemma Arterton as Sister Clodagh, a role made famous by Deborah Kerr in an Oscar-winning 1947 movie adaptation.
As Sister Clodagh and her order of Anglican nuns set up a convent in 1934 Nepal, she is awed by the stunning Himalayas…and the handsome Mr. Dean (Alessandro Nivola), who oversees the land for the British empire.
Arterton explains why Black Narcissus is so sinfully good.
If you only have time to watch one more show, it should be Black Narcissus because…it is unlike anything I have seen on television for a long time. It is quite classical, in the best sense. It is a psychological thriller that intoxicates you.
The reason I had to say yes to this series was…I read the book and was blown away. Amanda Coe's scripts honored it, whilst elaborating on some themes, bringing more depth. The setting, the story and the complexity of the characters completely transported me.
The character of Sister Clodagh resonated with me because…she is someone who used being a nun as an escape from her true self. I connected with her struggle to always be in control, to always succeed, whilst battling the wild, sensual person that she truly is.
You'll be glad to hear we don't…shave our heads! At the time [the series is set], nuns shaved all their hair off. Luckily, we had an amazing hair and makeup designer, Nicole Stafford, who did wonders with bald caps and wigs.
Awards voters are definitely going to single out…how visually beautiful the miniseries is, from Kave Quinn's costumes and production design to the incredible Nepalese landscape.
We did our homework! For example: We visited an Anglican convent for research. The nuns in Black Narcissus are High Anglican, which, at the time, was very strict. The nuns weren't allowed to touch, weren't really allowed to let their gazes wander. I found the research of life in the order completely fascinating.
Filming on location in Nepal was…a blessing. It was one of the most beautiful places I have ever seen. I could really understand why the nuns are so shaken by its majesty. It was a once-in-a-lifetime opportunity.
Black Narcissus, Premiere, Monday, November 23, 8/7c, FX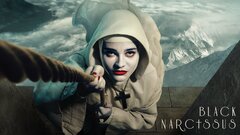 Powered by