Watch Hilarious Pet Moments on The CW's 'World's Funniest Animals' (VIDEO)
Host Elizabeth Stanton is joined by special guests Tom Arnold and Natalie Lander, and panelists Mikalah Gordon, Noah Matthews, Brian Cooper and Carmen Hodson, as they observe animals doing the most hilarious things ever caught on video.
The new series, World's Funniest Animals, debuts Friday, September 18 on The CW, with back-to-back episodes.
Featured in the series are viral internet clips of funny animal moments, priceless animal clips from major motion pictures and your favorite TV series, animal outtakes that surprised the whole cast and crew, videos of babies and pets, as well as celebrities and their pets.
World's Funniest Animals, Premiere, Friday, September 18, 9/8c, The CW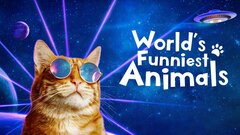 Powered by