'Supernatural's Mark Sheppard on How Crowley Is Going to Get Back to Hell
The king of Hell is having a tough time finding his place in the underworld on The CW's Supernatural. All Crowley (Mark A. Sheppard) wants is to have his old job back—but he's having a hell of a time winning support from his former minions. Sheppard shares Crowley's pain and his plans for next season.
My, how the mighty have fallen.
Well, Crowley's worst nightmare came true when Lucifer (Mark Pellegrino) was let out of the cage. The fact that he didn't deal properly with his mother, Rowena (Ruth Connell), who's a powerful witch, didn't help his case.
Crowley wasn't very happy this season, was he?
He missed Dean (Jensen Ackles). Their bromance was important to him, and when that went up in smoke, he didn't do a good job of running Hell. The demons kicked him out, so at the end of the season, he was a man without a country.
RELATED: Supernatural: 6 Burning Questions for Season 12
Nobody seems to want to work with him to get the crown back. He's burned all his bridges.
Crowley's a good guy! The Winchesters kill a lot more people than Crowley does. He wants everyone to like him.
Crowley has flambéed plenty of demons.
Oh, demons come and go.
Crowley and Billie (Lisa Berry), the soul reaper, appeared to be flirting in the finale. Might something be percolating between them?
She's taken over for Death [who was killed at the end of Season 10], so she's a woman who has everything Crowley wants. He's definitely enamored, so there might even be a relationship! That would be fun. We haven't had enough of sexy Crowley.
Which was worse for Crowley this season: his mother trying to kill him or Lucifer sadistically making him lick Hell's floor?
People keep asking, "What does the floor taste like?" My response is, "It's not the worst floor you've ever tasted." Lucifer putting a dog collar on him was the worst. His mother trying to kill him is just an occupational hazard.
RELATED: The CW Announces Fall Premieres: Supergirl Arrives, Supernatural Moves
God, aka Chuck Shurley (Rob Benedict), and his destructive sister, Amara (Emily Swallow), made peace in the season finale. Can Crowley and Rowena?
Could be, but you can't trust her as far as you can throw her. The possibility is always there that they might kill each other given an opportunity. He could fix the Rowena problem, but it's been quite fun that he hasn't.
What's Crowley's goal next season?
He wants to be in charge. But he has a few overpowering obstacles. Lucifer is the biggest one. He was cast out of Castiel's (Misha Collins) body, but we don't know where he went. He could be hiding in plain sight in some new body [That body will look a lot like Rick Springfield, according to casting news from earlier this summer].
If Crowley was unhappy on the throne in Hell, why does he want back in?
That's his destiny. He likes to pretend he doesn't care, but he'd be a bit lost without the job. Maybe he's destined to fail, but it's so amusing watching him try to regain the throne.
What feedback do Supernatural fans give you?
I spend most of my time knocking Misha, which is fun because of the angel status. They boo and hiss me for that. As for Crowley—it's that he killed Meg. [Meg, played by both Nicki Aycox and Rachel Miner, was a demon who eventually allied with Castiel and the Winchesters; Crowley ended her in Season 8.]
RELATED: Supernatural Recuits '80s Icon Rick Springfield to Play Lucifer
What's Crowley's saving grace?
He's actually an asset who does more for the boys than he does against them.
Is he fun to play?
He is. It's like playing Daffy Duck. If Bugs Bunny symbolizes our aspirations, then Daffy Duck epitomizes our realization of what we truly are. Crowley is a reflection of that which we truly are, rather than that which we want to be. I also believe that, like Green Acres' Eddie Albert, Crowley really is the last sane man in the universe.
So you relate to him?
Totally. I'm literally going, "These people are insane. If they'd just do what Crowley tells them to do, everything would be fine!"
Supernatural, Season Premiere, Thursday, October 13, 9/8c, The CW.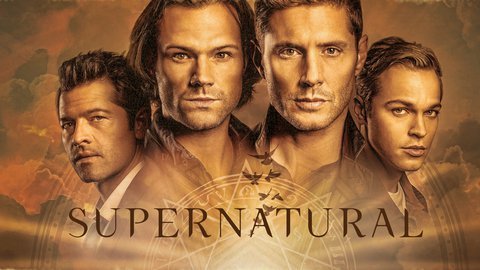 Powered by