'Batman: The Killing Joke' Is the Joker Origin Story That's Definitely Not For Kids
Stop us if you've heard this one already. Actually, wait … You haven't heard this before, at least not in a cartoon. Batman: The Killing Joke is the first R-rated feature in Warner Bros. Animation's DC Universe Original Movie line, and it earns its rating with a shocking mix of violence, language and sex. It's every bit as hard-hitting as the 1988 Alan Moore-Brian Bolland graphic novel it's based on.
Mark Hamill voices The Joker
"It's so not for kids," cautions actor Mark Hamill (yes, that Mark Hamill), who voices the Joker opposite Kevin Conroy's Batman. Here's why that is: While The Killing Joke is often considered the definitive Joker story, offering one possible origin for the Clown Prince of Crime, it also features (spoiler alert) the savage shooting and sexual violation of Barbara Gordon/Batgirl (Tara Strong).
RELATED: Batman, Superman, and Wonder Woman Get New Lives in Justice League: Gods and Monsters
"It's really grim," Hamill says. "I didn't even realize when I was recording it. When you see it all put together, it's a harrowing experience."
"It's unexpected," Conroy adds. "The story sneaks up on you. It almost starts feeling like a Batgirl story. And then it evolves into a Batman-Joker battle."
Writer Brian Azzarello updated the script with a richly detailed opening storyline that takes viewers inside the complicated relationship between Batgirl and Batman and sets the stage for the Joker's warped second act. Instead of bringing Gotham to its knees, he settles on destroying the life—and mind—of one man: Commissioner James Gordon (Ray Wise). He's determined to show that Gordon, like the Joker himself, can be broken and his grip on sanity can be shattered.
Conroy and Hamill have been portraying these characters since Batman: The Animated Series in the 1990s, and through the various other series and video games that have come afterward. For Hamill, making The Killing Joke was like the culmination of a dream deferred: "When Batman: The Animated Series was coming to an end, I said it's too bad we can't do The Killing Joke as a swan song."
RELATED: The Dark Knight is M.I.A. in Batman: Bad Blood (VIDEO)
Hamill finally has his wish, but neither he nor Conroy is ready to say goodbye to these cherished roles. "All the Batman stories are intricate," Conroy says. "The psychology of the characters is really complicated. I love that about it. For an actor, it's so great to play."
And while Hamill may be frequently busy spending time in a galaxy far, far away, he's in no hurry to stop giving life to the Joker's infamous cackle. "Since he is insane," the actor says, "he is completely unpredictable. And because he's unpredictable, he's never boring." Least of all when he's telling The Killing Joke.
Batman: The Kiling Joke, available on DVD and Blu-ray August 2.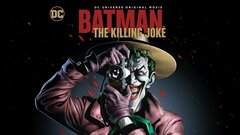 Powered by