Duttons Protect What's Theirs on 'Yellowstone' (RECAP)
Going Back to Cali
Season 3 • Episode 4
[Warning: The below contains MAJOR spoilers for Season 3, Episode 4 of Yellowstone, "Going Back to Cali."]
You can't stay at summer camp forever.
While it may be nice for a bit to sleep out under the stars and get away to see everything they're fighting for, it's time for the Duttons and the ranch hands to pack up (and return to reality) by the end of Sunday's episode of Yellowstone.
But first, we find out if Jimmy (Jefferson White) survived that accident at the rodeo, see Beth Dutton (Kelly Reilly) and foreman Rip Wheeler (Cole Hauser) discuss their future in a major way and Thomas Rainwater (Gil Birmingham) possibly make a deal with the devil to try to ensure the future he wants for the valley, and watch patriarch John (Kevin Costner) deliver quite the threat (and promise).
Plus, Josh Holloway's Roarke Morris continues to only briefly show up, with his one scene this week coming as he sees MKT Equities Group's stock is down … and he knows Beth is responsible.
Getting Back on His Feet
It might have looked bad for Jimmy at the end of Episode 3, and he might have a long list of injuries — including a compression fracture in his neck and two in his back, bone fragments pressing against his spine, a shattered hip, and a concussion — but he's up and walking.
He's also fortunate because John says he doesn't have to worry about the hospital bill, as long as he promises "no more rodeo." "It's the only thing that ever made me feel like I was worth something," Jimmy shares, so John has a solution: learn to rope, so all he's risking is a thumb (and he has two of those).
Plus, he now has a girlfriend — barrel racer Mia (Eden Brolin) — who's at his side, helping him get out of bed and walk through the halls … and taking his virginity in the hospital bed.
Wait, Was That a Proposal?!
Beth and Rip continue to be adorable together, with him revealing he likes her calling him "baby" and her suggesting he call her "wife." As soon as that's out of her mouth, however, she immediately hurries inside his house, offering to make him dinner for once.
And the next day, she tells him she didn't mean it, but he admits he only holds back from bringing up the future with her because she runs away. "I look at every day with you as a gift. My tomorrows are all yours," he says, taking her hand. "There's no word that I'd rather call you, if that's what you want." She then explains why she runs away: she can't have children.
But he doesn't need kids. "You're all I need," he assures her. "I'll call you whatever you want." "Beth is fine, for now," she decides, but those two are definitely on the right path.
Summer's Over
Governor Perry (Wendy Moniz-Grillo) begins moving the pieces into place for the plan to ensure the valley stays as is, joining John up at the camp. (As she notes, she can see why he fights so hard for it.) And that means letting Kayce (Luke Grimes) know that while he didn't want to take over as Livestock Commissioner, he has to because it's no longer the position she needs his brother Jamie (Wes Bentley) in.
He may not be a politician, but he doesn't have to be to be commissioner, the governor tells Kayce. And while he protects people's livelihoods, Jamie will, as attorney general, "help me prevent this valley from becoming a city," she shares. She is conflicted, she admits, when it comes to keeping Montana growing without losing what makes it Montana. She needs Jamie to make the law say "no" so someone else who will say "yes" isn't given her job. Kayce agrees, as long as he does it his way.
The governor spends the night at the camp with John, making for an amusing (but somewhat awkward) the next morning when both she and Monica (Kelsey Asbille) call John and Kayce back into their respective tents. And later, Kayce and Monica are once again about to have sex in the woods — and she knows their time out there is coming to an end — when the wolf shows up. "He's studying," Kayce determines, ready to go kill him, but Monica stops him.
Meanwhile, Rip and ranch hands Lloyd (Forrie J. Smith), Colby (Denim Richards), Ryan (Ian Bohen), and Teeter (Jennifer Landon) head to an auction for cattle. On their way back, Colby, Ryan, and Teeter spot bikers in the field of the ranch, and Ryan pulls out his badge to order them off the private property. The bikers don't care, and soon enough, a punch is thrown (by Teeter). A fight breaks out … until Rip and Lloyd spot them from their car and plow right through the motorcycles parked on the road. With their assistance, it goes Yellowstone's way. Rip orders the bikers' boss to leave or he never will, but after the group leaves, Lloyd knows they'll be back to destroy the field.
He's right, but John's waiting when they turn up to burn the land. "This field's mine, that fence is mine," he says. "You damaged both and you came back to damage them more. This is my home. If I did this to your home what would you do?" The boss admits he'd kill him, and that's when Rip, Kayce, Ryan, and Lloyd all step out of the darkness, armed. John reminds the bikers of the threat to bury them if they came back and makes them dig their own graves.
After scaring them, he lets them leave (back to California), but warns them he's leaving the holes just like that in case they come back. Even though he knows he won't see them again, he tells Kayce to leave the holes. And while John may not know what he wants to do about the plans to put an airport on his land, he has decided it's time to move back to the lodge. "My summer's over," he says.
Yellowstone, Sundays, 9/8c, Paramount Network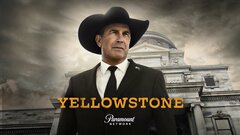 Powered by