'Gilmore Girls': What Will the Famous 'Last Four Words' Be?
We've waited almost ten years, and though details of the November 25 Netflix release of Gilmore Girls: A Year in the Life are still closely guarded we know one thing: the series will end on the four words creator Amy Sherman-Palladino initially wanted to use at the end of the show's original run on The WB/The CW. She never got a chance to do so because she and her husband Daniel Palladino left the show before its seventh and final season.
RELATED: Amy Sherman-Palladino Cautions Against Gilmore Girls Viewers Spoiling Themselves on the Final Four Words
But what will those four final words be? "Oy with the poodles"? "I need more coffee?" Speculations have been pretty high on the Gilmore Girls sub-Reddit since the revival was announced, with answers ranging from tear-jerkers:
"I'm still all in."

-Reddit user mingmingcherry
"I'll miss you mom"

-Reddit user mysticalscorpion
To first-episode references:
"Luke? Coffee, coffee, coffee."

-Reddit user Kaykaysees
RELATED: Netflix Sets Gilmore Girls: A Year in the Life Premiere Date, Releases First Footage
And Twitter users have been chiming in with their predictions, too, with some foreseeing a marriage—though who the bride would be is up for debate:
#GilmoreGirls theory: The final four words are "Will you marry me?" Going to say, Lorelai to Luke. #TCA16

— Chris E. Hayner (@ChrisHayner) July 28, 2016
I mean it's centered around Rory final 4 words aren't hard to figure out *Will*You*Marry*Me it's not rocket science 😂#GilmoreGirls

— J2BroHug | 175 (@TinaTinamhlman) July 27, 2016
Others see an inevitable pregnancy:
What if the final four words are Rory saying, "Mom, I am pregnant"? #GilmoreGirls #FinalFourWords

— Queen of the Tube (@Obsessed_Twit) April 7, 2016
@EWlive Y'all final words of the series "it's a girl" #GilmoreGirls

— SallyAnne (@SassyAnne_) February 11, 2016
And others had some different ideas:
Obviously the last four words of #GilmoreGirls should just be Emily yelling "Lorelai. Lorelai. Lorelai! LORELAI!" pic.twitter.com/IcmafT0rvy

— Mike T (@majtague) July 28, 2016
@GilmoreGuysShow last 4 words:
Rory: "man I'm starving"
Lorelei: "Luke's?" #GilmoreGirls

— Alex Jaffe (@AJaffe3) May 26, 2016
Does anyone else have #GilmoreGirls theories on the last four words? Newest thought: "there she goes again."

— Anna Apodaca (@frannkie13) April 20, 2016
Just want it in writing that it's super obvious that the "final four words" in #GilmoreGirls will obviously be "We are Gilmore Girls."

— Megan (@mwahman) April 1, 2016
Our personal guess? "Let's go to Luke's."
Gilmore Girls: A Year in the Life, November 25, Netflix.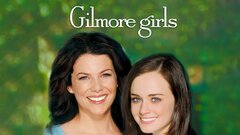 Powered by