Illusions Are Shattered for More Than One Resident in 'Grantchester' Episode 3 (RECAP)
A murder at the movies derails Will and Ellie's date. But that's nothing compared to the drama that's going on in the Keating and Chapman households. In the third episode of Grantchester's fifth season, illusions are shattered for more than one resident of Grantchester.
At least casually dressed vicar Will (Tom Brittney) and smartly turned-out reporter Ellie (Lauren Carse) get to see part of a movie (The Ladykillers, starring Alec Guinness) before tragedy strikes. Also out for the night is Matthew (Jim Caesar), the college waiter from the first episode who was facing minor charges until Will took him under his wing and sent him to the boxing gym. Far from showing gratitude, he's more than a little rude to the cute couple.
Things (sort of) heat up between Will and Ellie, who go so far as to clasp pinkies in the dark. But the evening comes to an abrupt end when the film suddenly stops and Betsey (Zoe Tapper), the cigarette girl, finds the projectionist dead, blood dripping from his skull.
See Also
Series star Robson Green previews the best episode they've done so far on the Masterpiece series.
By now Will knows how to handle a crime scene — at this point the police might as well just give him the title of "reverend sergeant" — and he's there to assist Geordie (Robson Green) and Larry (Bradley Hall). The detectives had been called out to the cinema earlier on reports that an Indian man had been spotted on the premises and found evidence that someone had been staying in the projection room. Sure enough, Geordie now finds an Indian Army medal on the body of projectionist Wyatt Rogers (Mark Umbers), who earlier told the police he was a blacklisted American screenwriter.
There's another crime in Grantchester that night, albeit a minor one. Someone throws a brick through the window of the Chapman household, and the description Mrs. Chapman (Tessa Peake-Jones) gives the police leads Geordie and Will to believe that the man spotted at the movie theater could be the same guy, a man named Tariq Hassan (Hamza Jeetooa).
Following a tense interrogation, in which Tariq admits the medal belonged to his father, Mrs. Chapman comes in and picks the young man out of a lineup, but her husband, Jack (Nick Brimble), declines to press charges. That arouses his wife's suspicions enough that when Tariq is released (after they realize he couldn't be responsible for both crimes), she takes him out for a meal and gets a bombshell that upends her world.
Jack, she learns, was in India during the partitioning, when the newly independent country was divided into India and Pakistan in 1947, and he smuggled people across the border for a price. According to Tariq, his mother gave Jack her emerald engagement ring so he'd go back for his father. But they never found out what happened to the elder Hassan, and Jack refused to talk to Tariq about it. Hence, the broken window to get his attention.
I've never been a huge fan of the Mrs. Chapman character, whose primary purpose always seemed to be to dish out snobbish remarks. But the moment when she removes her glove, takes the emerald ring off her finger and hands it to Tariq brought a newfound depth and dignity to the vicarage's housekeeper. And the scenes that followed, in which she confronted Jack, who didn't seem to feel as if he'd done anything wrong ("India was a different time, different rules"), then took off the jewelry he gave her and left him, were equally crushing.
Tariq isn't the only dark-skinned young man facing the police. What are we to make of Matthew's odd behavior? Geordie catches the young man stealing from the cash register at the movie theater. But by the time he and Will catch up to him, Matthew, who seems to want to get caught, claims he threw the money away (?). Vic (Ross Boatman), who runs the gym, says that Matthew probably stole the money to keep his financially troubled establishment afloat.
See Also
Find out what's in store for the latest seasons of these favorites.
Ever the charitable one, Will cobbles together some cash of his own and presents it to Geordie, telling him he found it in Matthew's locker. And despite the lie, Matthew lucks out because the theater doesn't press charges. I do adore Will's benevolent nature, but his covering for Matthew is bound to end up doing more harm than good.
If I seem more focused on these storyline than the murder investigation, it's because the latter wasn't as memorable. After more sleuthing, Geordie and Will discover that Wyatt lied about his background and was conning Betsey into believing that he had the connections to get her a Hollywood screen test. Sure enough, it was Betsey who killed him and then changed the film reel to obscure the time of death.
So far this season, all three episodes have featured deceived, betrayed females as killers. Yes, Grantchester makes a strong case that women were hemmed in by society in the '50s, but can we mix up the murderers a little more in the remaining installments?
Meanwhile, in the Keating household, Diana (Paula Wilcox) takes her four grandkids to the beach for a day while daughter Cathy (Kacey Ainsworth) is at work. But a good time is not had by all, and eldest child Esme (Skye Lucia Degruttola) is quick to call her grandmother a liar when she claims otherwise. Diana raises a hand to strike Esme, but Cathy cuts her off with a "Don't! You! Dare!" before a perplexed Geordie wanders in wondering what happened. Between Cathy and Diana and Will and his mum, this hasn't been a good year for parent-child relations in Grantchester. I bet some reckoning and reconciliation are in store.
As for Will and Ellie, they have another go at a date, and after getting cozy on the dance floor, end up canoodling in a dark alley. Will gets his hand pretty far up Ellie's skirt when he suddenly stops himself, leaving viewers as stunned and disappointed as poor Ellie!
Does this have anything to do with the subject of his closing sermon? Will preaches about faith and fantasy. "Beware who or what you put your faith in," he warns his congregation. "Living a lie can only end in sorrow. Being honest with ourselves is often the most painful path." Oh, Will. We hope you find your way down that dark and treacherous trail.
Grantchester, Sundays, 9/8c, PBS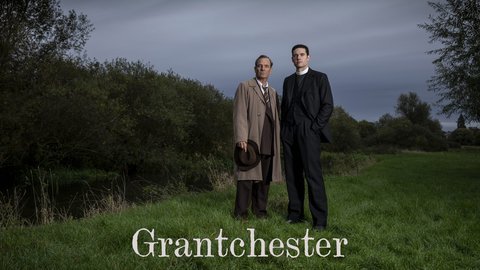 Powered by