Family Ties Are Tested in 'Grantchester' Episode 2 (RECAP)
Episode 2
Season 5 • Episode 2
Family ties are tested in the second episode of Grantchester's fifth season. Will's standoff with his mother escalates; tensions abound as Geordie's mother-in-law becomes a fixture in the Keating household; and Leonard and Daniel form a cozy domestic bond. Plus, there's a murder to solve.
And it's one that vicar Will (Tom Brittney) and curate Leonard (Al Weaver) witness when a car plows into and kills a man carrying a bouquet of white orchids. The deceased is financier Dickie Astor, who turns out to be a less-than-sympathetic victim. Geordie (Robson Green) is on the case, and when Will recalls the car's license plate, he and the detective inspector track it to a remote, run-down house in a clearing where the elderly Graham brothers live. They happen to be distant cousins of Astor, who stole their savings.
After Geordie decides to hold Harry (Matthew Marsh), the owner of the car, Will and Geordie yet again bump into that persistent reporter Ellie (Lauren Carse). Hoping for a scoop, she's just hanging out in the halls of the police station smoking a cigarette. Honestly, who's in charge of security at that place?
More on her later. As the case progresses, Geordie and Will go from suspecting Harry to believing that he's covering for his mentally troubled brother John (a heart-wrenching David Bamber). The veteran of World War I has a violent streak due to what we now call PTSD, and the flowers Astor was carrying came from John's garden.
But there's another twist. Geordie had assigned his junior colleague, Detective Constable Larry Peters (Bradley Hall), to find out what kind of orchids they are. Larry bursts in yelling that they were Phalaenopsis aphrodite, and since the name meant love, the murder was clearly a crime of passion. At that point, I was waiting for someone to say, "Do you think you wandered into an episode of Endeavour? Crimes aren't solved by obscure scientific knowledge around here!"
But the flowers actually do point Geordie and Will in another direction. When they realize Astor had a mistress, and they remember seeing his widow Jacqueline (Caroline Martin) at the Graham brothers' home, they discover Mrs. Astor is the killer. Initially she just meant to frighten him but her anger at what he did to the brothers, and her sense of powerlessness, overtook her.
The identity of the killer wasn't a big surprise. What distinguishes this episode is how connections between characters play out. Ellie and Will spend more time together, initially after she follows Will when he goes to visit John. Will's initial annoyance soon gives way when he sees that Ellie is besotted by the vast garden. "This place has got so much love in it, it makes you want to cry," she says with sincerity. Will's response: "That is the least cynical thing I have ever heard you say."
Later, when Will and Ellie talk in a pub, we get a sense of what motivates her to be so dogged in her quest for stories: As a woman from a less well-to-do background than Will, she's going to have to be tough to get where she wants to go. Despite their cuteness, this opposites-attract scenario just isn't sparking for me, although I do love her red plaid jacket. Perhaps that will change in future episodes.
Of course, it would be hard for any couple to outshine the Leonard-Daniel pairing right now. Leonard is determined to bring more joy into his life, even if it means keeping secrets from the disapproving Mrs. Chapman (Tessa Peake-Jones), so he rushes her out of one door of the vicarage and, seconds later, brings boyfriend Daniel (Oliver Dimsdale) in another.
One of the most moving scenes in this episode shows Leonard and Daniel enjoying a quiet dinner and watching an early installment of the Eurovision competition on the vicarage's new black-and-white television. Grantchester is often at its best depicting intimate moments of warmth and tenderness like this one, and it's all the more heartfelt because Leonard and Daniel can't openly live the life they want.
Weaver is great to watch, revealing Leonard's vulnerability and hopefulness as he asks Daniel to stay the night. And it provided the opportunity for a playful comical interlude the next morning, when Mrs. Chapman arrives before Daniel leaves and Leonard uses Will to sneak him out. Clad in only a striped towel, Will has to improvise to keep Mrs. Chapman distracted. So far the creative team is two-for-two when it comes getting Will shirtless in Season 5. Let's see if they can keep it up.
Over in the Keating household, Geordie has found a "wife" who will have a beer and his slippers ready for him when he walks in the door. Only problem is it's his mother-in-law, Diana (Paula Wilcox), whose disapproval of her daughter having a job runs deep. "You never listen to me. You've always been a letdown," she chides poor Cathy Keating (Kacey Ainsworth) just before cheerfully handing Geordie his lunch.
So it was lovely to see Geordie, not a terribly woke male even by 1950s standards, support Cathy, who just became a shop steward at the department store, when she feels like packing it in. "Do the job you love, Cath. I'm proud of you," he says simply.
Now if only Will and his mum Amelia (Jemma Redgrave) could find the right words to say to each other. But the vicar's meeting with Amelia's new boyfriend doesn't go well, especially once Will finds out that St. John (Dominic Mafham) is now his mother's fiance! When he doesn't hesitate to tell Amelia that he doesn't like the way St. John treats him or his mother, Will is disinvited to their engagement party. (Fortunately, he can always return to the comfort of the punching bag.)
And while Will's final sermon speaks to the importance of family, it also sounds cautionary notes. "Family's all about compromise and service and duty…about drawing a line, saying this far and no further." I expect those boundaries will be stretched to their limits in the remaining four episodes.
Grantchester, Sundays, 9/8c, PBS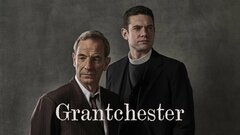 Powered by