Everyone Is Harboring Guilt in 'Grantchester' Episode 4 (RECAP)
Episode 4
Season 5 • Episode 4
She may not be an official member of the clergy, but Mrs. Chapman (Tessa Peake-Jones) certainly knows her Bible. "God wants us to be good Christians," the vicarage housekeeper tells curate Leonard (Al Weaver). "Where on earth in the Bible does it say He wants us to be happy?"
Mrs. C has a point, and two-thirds of the way through Season 5 of Grantchester, viewers can be forgiven for wondering whether the writers of this 1950s-set British mystery series want us to be happy. These installments have certainly shown that the '50s weren't as blissful a time as nostalgia would have us believe, but I hope the dark days will give way to some joy, or at least peace, for vicar Will Davenport (Tom Brittney) and the folks of Grantchester in the remaining two episodes. They've definitely earned it.
Right now, though, everyone is harboring guilt for one reason or another. When Geordie (Robson Green) and Will spot a naked man running through town, the police detective wants to arrest him, but Will convinces him to let it go, convinced it's just a student having a bit of fun. Later, however, when the young man is found dead, Will wishes he'd kept his mouth shut.
It turns out that the student, Chris Hartley (Jack Barton), was involved in an LSD study at Cambridge that a chipper Professor Adler (Simon Kunz) was running. Geordie and Will also learn that Chris and some of the professor's other students had a plan to try LSD on their own. Since the dead man was storing a vial in his room, and it's now missing, the police conclude that Chris took it on his own and his death was a tragic accident.
But not Will. Usually Geordie is the one eager to make an arrest, but in this topsy-turvy season, it's Will who believes Chris was murdered. Based on what they've learned about the boy, Will doesn't think he would try LSD on his own, and during a chance encounter with one of Professor Adler's rivals, Judy Munroe (Stella Gonet), Will opens up about the guilt he feels over not just Chris' death but also his father's. "We feel guilty about the little things because we can't face up to the big ones," she consoles.
After more conversations with those who knew Chris, Will comes to a conclusion about his death that says more about Will's daddy issues than it does about the actual case. Will believes the young man father's slipped him an excessive amout of LSD because the drug had helped Chris remember that his father killed his mother years ago.
When his theory proves wrong, Will wonders if talking to God is enough for him anymore and considers seeing a therapist. But a conversation with Leonard leads to a last-minute realization about Chris' fate: The reason Judy Munroe was so perceptive about Will's guilt during their earlier chat is that she was feeling remorseful herself.
Will confronts her, and she admits to slipping Chris a dose of LSD to discredit her rival Adler's work, but Judy didn't realize the effect it would have on the poor student. She's arrested, and also eager to put some of the responsibility for Chris' death on Will and Adler.
Of course on Grantchester, the mysteries are appetizers for larger, soul-nourishing stories, like Will having trouble dealing with his all-too-human failings. "I have to be better than that," he tells Vic (Ross Boatman), the owner of the boxing gym, about his amorous encounter with Ellie (Lauren Carse) in the previous episode, which is making it increasingly hard (no pun intended) for Will to keep his vow of celibacy.
Ellie certainly doesn't want him to. When Will apologizes for getting her all hot and bothered, her response is "I'm sorry you're sorry," and they start to kiss again before Will pulls back. So what does he do the next time he sees her? Propose marriage! Not surprisingly, the savvy young woman isn't eager to tie herself down to the increasingly confounding vicar.
In the Keating household, Diana (Paula Wilcox) is acting even more bizarre. When Cathy (Kacey Ainsworth) gets home from work, she finds her mother not in the house but on the sidewalk conducting a makeshift sale of the Keatings' kitchenware to make some extra cash.
Diana is also planning an ambitious dinner party, during which the full extent of her mania is on display as she behaves in an increasingly erratic manner, saying outrageous things about learning Italian and putting on an opera, and eventually using a mallet to try to knock down a wall.
Cathy finally tells Geordie about Diana's ups and downs, which we know today as bipolar disorder. Stricken with guilt, Cathy offers to quit her job to take care of her mother, but Geordie knows that won't be enough and arranges for Diana to go to a mental hospital.
It was a shocking and sudden (perhaps too sudden?) transformation of a character, whose awful behavior in previous episodes finally got an explanation. The exasperating Diana became a tragic figure, especially when Geordie escorted her out to the men in white coats, who took her away as neighbors looked on.
At the vicarage, Leonard notices Mrs. Chapman doesn't have her expensive coat or her emerald ring, niceties from her husband Jack, which he doesn't know she shed when she learned a dark secret about his past. He tries to find biblical proof that God does indeed want us to be happy, to counter Mrs. C's statement, but in the end all Leonard can say is, "I can't prove that God wants you to be happy. I just know I want you to be happy."
As Mrs. Chapman cries and finally tells him about Jack, the second husband to have deceived her, Leonard comforts her. In one of the episode's last shots, he lays a blanket over her as she falls asleep in front of the TV. A reminder that in the midst of all the mysteries, Grantchester's best moments are ones that simply show characters connecting with one another.
Grantchester, Sundays, 9/8c, PBS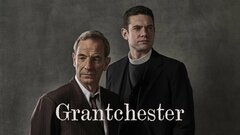 Powered by