'DuckTales' Teaser Art Revealed Ahead of Comic-Con Debut
They're solving mysteries and rewriting history—or at least rebooting it! Just in time for Comic-Con, Disney XD is revealing the latest teaser art for the upcoming DuckTales reboot, focusing on the family of a certain Disney duck we all know and love. Scrooge McDuck, and his grandnephews Huey, Dewey, and Louie—as well as Donald, of course—are starring in new adventures in DuckTales, set to premiere in 2017.
RELATED: DisneyXD Rebooting DuckTales
And who are the creative forces out there making DuckTales? Annie Award nominee Matt Youngberg (Ben 10: Omniverse), co-producer Francisco Angones (Disney XD's Emmy Award-nominated Wander Over Yonder), and art director Sean Jimenez (Disney XD's Annie Award-winning Gravity Falls) are the team behind the new series.
The original series, which ran from 1987-1990, featured Donald's three nephews getting left in the hands of wealthy Scrooge when Donald joined the Navy. Here's hoping butler Duckworth makes his return! But before diving into the new series, grab on to some DuckTales and take a trip down memory lane by giving the catchy theme song from the original a listen.
RELATED: LEGO Star Wars: The Freemaker Adventures Blasts Off on Disney XD
The show will debut at Comic-Con, but Donald Duck fans can catch a glimpse of their favorite waterfowl in this teaser pic, which will appear on the back of "DuckTales Cinestory Volume 1," a collectible comic retelling of the first five episodes. It will be available at Comic-Con Wednesday, July 20, and at comic book stores nationwide starting Tuesday, September 27.
DuckTales, Series Premiere, 2017, Disney XD.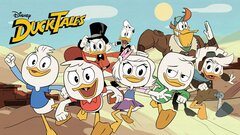 Powered by