Chris Hardwick on How '@midnight' Comes Together
Every episode of Comedy Central's @midnight With Chris Hardwick closes on the same shot: an audience with three members dressed as animals and five or so dozing off. It's pretty much the only thing you can definitely expect from the always surprising late-night stand-up show hybrid emceed by Talking Dead host Hardwick.
Well, that and the format: The series features a rotating panel of three comedians ad-libbing riffs related to the day's social-media gaffes and blunders, with Hardwick awarding points to the funniest retorts. Past players have ranged from relative upstarts (Kyle Kinane and Nikki Glaser) to near icons (Marc Maron and Whitney Cummings). And the jokes are usually too dirty to print in a family magazine. We talked to Hardwick about his daily grind.
RELATED: The Daily Show's Trevor Noah Hopes For 'Controlled Chaos' At the 2016 Conventions
What's the usual workday routine for you and the show's staff?
We have a morning meeting during which we go through all the things that are trending on social media. There are so many things we can use. And up until the moment we shoot the show, we are sliding stuff in.
Where do you find the most material?
The obvious places, like Twitter, Facebook or Reddit. Then there's [digital hubs like] Worldstarhiphop and Barstool Sports. A source can be Yelp comments. Amazon reviews. Social media is really any place where people are literally socializing.

What criteria do you use when awarding points?
No. 1, did the audience like it? No. 2, did I like it, even if the audience didn't?
RELATED: Wyatt Cenac on Night Train, Leaving The Daily Show and His 'Feud' With Jon Stewart
What's the most shocking answer you've gotten? We get so many.
There is definitely a filth factor on the show, because if you put comedians in front of an audience, they are going to go for the quick joke and that, a lot of times, is going to be blue or raunchy. In one of our first episodes, Kyle Kinane destroyed during this game called Cringeworthy, in which you have 60 seconds to come up with three words to make the audience cringe. His answer: "Discreet orphan rentals."
@midnight, Monday–Thursday Midnight/11c, Comedy Central.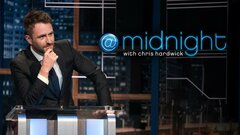 Powered by