'Killing Eve's Harriet Walter: Dasha's 'Threatened' By Villanelle & Eve's Obsession
[Warning: The below contains MAJOR spoilers for Season 3, Episode 2 of Killing Eve, "Management Sucks."]
Dasha (Dame Harriet Walter) has a new job for Villanelle (Jodie Comer) in Sunday's episode of Killing Eve, and unsurprisingly, it doesn't go as planned.
In order to get the promotion she wants, Villanelle must show she's up to the job and oversee a new recruit, Felix (Stefan Iancu). "If you want more control, you have to show them you have some judgement," Dasha explains.
The job seems easy enough: take out a target and be "clean and clinical." Unfortunately, Felix does the complete opposite. It ends with Villanelle shooting and killing both the target and her recruit. (Hence, the episode's title.)
Then, at the end of the episode, Konstantin (Kim Bodnia) visits Villanelle to inform her that Eve (Sandra Oh) is alive.
Here, Walter takes us inside Dasha's head and teases what's to come.
Dasha has Villanelle give management a try in this episode and Villanelle kills the recruit. How did Dasha expect it to go?
Dame Harriet Walter: I don't think she thought that would happen. She's pretty desperate because if Villanelle messes up, that messes up Dasha's plan for herself, which is to get back to Russia. That is at the heart of Dasha, this need to go home and have a beautiful retirement and a beautiful golden reception and be welcomed as a hero and then shut down. She wants to bow out while she's still got the power. That what she imagines anyway. She'd probably be bored to death, but she just got to that stage.
If Villanelle messes up and doesn't take the thing seriously, it's going to fall on [Dasha] — and it does. She gets into trouble later on. The Twelve make it quite clear it's Dasha's fault if Villanelle messes up. It becomes rather desperate.
Is going home to Russia all she really wants or does she have a hidden agenda?
I don't think she has a hidden agenda. She's been doing this for decades. She was hired after that first kill when she was a teenager, a young athlete. She carried on having a fantastic career, and she was obviously protected from any kind of prosecution — protected by the KGB, I think is the story. She was recruited by the KGB, but she carried on being a brilliant star, an international athlete. But there's a short life to that.
When that finished, she became a full-time trainer of assassins and then she made a mistake and lost the plot and she was kicked out of Russia. She has since then been run more by the Twelve, who picked up on that, that she'd been kicked out of Russia, and used that as a way to manipulate her. The lure is they can get her back into Russia if she does what they want.
She's been on a string for several years, hiding out in Barcelona, teaching six-year-olds how to do somersaults, and she's in a dead end. She's smoking and drinking. She's of an age — she's still fit and stuff — but she wants to spend her last years in Russia. I did cook up a last-minute son there. I thought it would be good to have some kind of family connection that she was yearning for, so I passed it by the writer, and she then gave me a reference to having a son there that I was looking forward to going back to see.
How would Dasha have handled Felix?
She would've coaxed him. She would've trained him up in such a way. He boasts a lot, doesn't he? He says, "I can do this, I can do that." Dasha would've seen through that and said, "You sound very cocky to me. You do what I tell you." She would've kept him at heel more.
She would've taught him more tricks about how to control himself. Villanelle knows how to control herself. She just likes not controlling [herself]. She likes going off [plan]. It's fun. But he obviously doesn't have that control and is too cocky for words. She didn't do well. She didn't psychologically manage him. Dasha has slightly more insights psychologically than Villanelle does.
Why is Dasha, as opposed to Konstantin, the right person to handle Villanelle right now?
For a start, the Twelve, and along with Konstantin and Dasha, they've been watching Villanelle all these years. Dasha knows Villanelle inside out because she met her when she was at her rock bottom lowest point. She got her from when she was in prison and an animal really. Dasha has trained up this creature from this savage to who she is at her most sophisticated. Dasha's brought that out of her and nurtured that.
While Konstantin has his kind of authority over her, we've seen Villanelle go off track, and they must have convened and thought Konsantin isn't working her in the same way he used to. We gotta find another [way]. It's been deliberately devised to bring me out — I've been watching her, but I'm now wound up and set out onto the street to meet her and work on her in a way that nobody else can work on her.
At the end of the episode, Konstantin tells Villanelle Eve's alive. How big of a concern is Villanelle having that information and her reaction to Dasha? What does Dasha think of Eve and Villanelle's obsession with each other?
She's quite threatened by it because she realizes that's the source of Villanelle's leaving signals and leaving little messages and code. This is all against the rules. This is going to get her discovered. It's going to, in some way, make her mess up in a big way. That's the way Dasha sees it. That's why she killed her lover when she was 19, because in her eyes, to love someone or be obsessed with anybody emotionally, it is to weaken yourself. She's quite worried about that.
There's also a bit of rivalry. She thinks if Villanelle's obsessed with anybody, it should be with Dasha. Who knows, maybe she was like that with Dasha when she was younger. It's dangerous to her. She wants her to forget the whole thing, to white that out. She thinks that Villanelle has it within her — and at some point, she actually thinks she has achieved [it] — to go beyond Eve and that she got over it. But everybody else is frightened by this relationship because it's making Villanelle disobedient and uncontrollable. So they need to drive a wedge between that relationship.
We got a flashback to Dasha's past, and Konstantin brought up her and Villanelle's history. Will we get more flashbacks and conversations like that?
I don't think there are any more flashbacks. I think there are references, but a lot of it is fairly unspoken. Of course I'd love to have much more of that elaborated, but there's so many other stories going on. There's so many characters to follow that you have to infer a lot of what historically went on between those two rather than see it played out.
We've seen some shifts at MI6. Will we see any conflict within the Twelve?
Not so much. They're much more hidden, aren't they? We never really know who they are. We don't see much of a face for the Twelve. That's the great power of the story. The power center shifts all the time and who's working for who shifts all the time. If we revealed too much about the actual Twelve — to me, they're like a big black cloud hanging over everything — and if we opened up and there were some people in a boardroom, that would kind of blow it for me. I like the fact that everyone has to imagine exactly what this organization is and it keeps shifting.
Can you preview any scenes with Dasha and Konstantin or Eve?
Yeah, I get to have a little bit with both of those characters. I'm not saying any more. [Laughs] I want you to enjoy them.
Villanelle paid homage to Dasha's kill. Will we see more of that?
I don't think so. We have to assume that a lot of Villanelle's style and flair and her tactics and her expertise were taught to her by Dasha. That she's taken that training and run with it in a way that Dasha's a little bit fearful of. That was a direct homage, which wasn't pure flattery in any way. It was, "Look, I can do what you did," but she doesn't need to prove anything, Villanelle. We've seen her being very imaginative in her kills. We know she's still a very effective assassin. But what we don't like right now is she seems to be emotionally unstable, and that could go anywhere.
They're both keeping up a front and a competition. Behind the eyes, you don't know who's really feeling a bit vulnerable and who isn't. I would guess Dasha feels a lot more vulnerable than Villanelle does, but she's very good at hiding it.
Killing Eve, Sundays, 9/8c, BBC America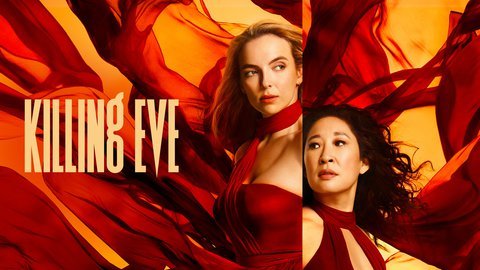 Powered by