Roush Review: Return of USA's Trippy 'Mr. Robot', and SundanceTV's Moving 'The A Word'
Teetering on the edge of madness, with evidence of social and economic anarchy all around, brooding hacker wizard Elliot Alderson (the intensely compelling Rami Malek) repeatedly scribbles "I am in control" in his journal, each scratch of the pencil conjuring memories of Jack Nicholson as The Shining's maniacal Jack Torrance, endlessly typing, "All work and no play makes Jack a dull boy."
Mr. Robot is anything but dull.
In its second season, opening Wednesday with back-to-back episodes (including an "Intermission" and limited interruptions), Sam Esmail's weirdly mesmerizing cyberthriller continues to pull off an audacious feat of boldly original, eerily relevant and daringly surreal storytelling, reminiscent of the visionary cinema of the 1970s. It looks and feels like nothing else on TV, often framing its characters off-center, in a corner of the screen, as if to reinforce the show's new motto: "Control is an illusion."
More Roush Reviews: See What Matt Thinks About Other Shows
Nowhere is that more true than within Elliot's tortured psyche. Huddled in his hoodie and eyes bulging with self-doubt and despair, he wages an inner war with the title character (a volatile Christian Slater), who was revealed at the end of Robot's first year to be a ghostly manifestation of Elliot's late father. "Our revolution needs a leader!" screams Mr. Robot, desperately trying to dislodge his altar ego/protégé from the "perfectly constructed loop" Elliot has designed to keep a rein on his fragile sanity at a time when the entire world has seemingly gone mad. (One amazing set piece in Wednesday's back-to-back season opener depicts a high-tech "smart house" gone haywire, driving its harried owner to seek refuge elsewhere—but is anywhere safe?)
The new season finds Elliot and most everyone else reeling from the mega-hack he helped engineer as part of the underground "fsociety." They paralyzed a too-big-to-fail conglomerate—he calls it Evil Corp—and sent the economy into a tailspin. Steeped in paranoia, Elliot isn't always sure what's real, and neither is the viewer, who may find the disorientation as maddening as it is exhilarating.
"How do I take off a mask when it stops being a mask?" Elliot wonders in one of his many hypnotic voice-over soliloquies. These existential ramblings evoke a sense of alienation that permeates Mr. Robot, whether the focus is on the battle for Elliot's soul or on the sinister fallout from Evil Corp's collapse.
Where is all of this heading? Who knows—but so far, it's promising to be another wild and trippy ride.
"A" For Appealing: Earning an A-plus on the spectrum of heartwarming domestic drama, SundanceTV's six-part BBC import The A Word (for which a second season has thankfully been commissioned) may bring back fond memories of NBC's late, lamented Parenthood. Much like that beloved series, this is an empathetic and bittersweet study of a fractious family whose anxieties and tensions are amplified upon discovering that dreamy, distant 5-year-old Joe (the remarkable Max Vento) is autistic.
Shutting out the rest of the world with headphones blaring pop music, Joe wanders country roads alone while the grown-ups dote and fret over this maddeningly remote lad. I fell instantly in love with these flawed, forlorn but resilient characters, including unapologetically pushy mom Alison (Morven Christie), pushover dad Paul (Lee Ingleby), who deflects disappointment with humor, and blustery granddad Maurice (The Leftovers' Christopher Eccleston), an eccentric recent widower skittishly embarking on a new, covert small-town romance.
The A Word could just as easily stand for authenticity. The emotions, tears and laughter always ring true in this small but deeply moving and entertaining gem.
Mr. Robot, Season premiere, Wednesday, July 13, 10/9c, USA.
The A Word, Series premiere, Wednesday, July 13, 10/9c, on SundanceTV.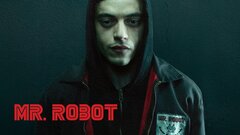 Powered by