'Ballers': Dwayne Johnson Wants to 'Dig Deeper' in Season 2
"Ball So Hard." Those three words—uttered by former NFL superstar turned financial planner Spencer Strasmore (Dwayne Johnson) in the Season 2 premiere of Ballers—not only serve as the business motto for Spencer and his all-star clientele, but they also represent the attitude Johnson himself has adopted for the sophomore year of his hit HBO comedy.
"Now that we've established the character, we want to push harder and dig deeper in terms of what challenges Spencer faces," says Johnson, who also serves as an executive producer. "Spencer will continue to scratch and claw his way up the ladder, he's even hungrier and more driven."
Ballers' first season was a breakout success for HBO, finishing its initial run as the most-watched half-hour program for the premium cable network in six years. The series was also the first major scripted television project for Johnson, who leaned on his own background as a former professional athlete to bring authenticity to his portrayal of the behind-the-scenes, big-money negotiations associated with NFL players and their representatives.
RELATED: HBO renews Ballers
"I think there were a lot of people out there who really didn't know what the show was," Johnson says. "We're about showcasing how these guys get up every day—even if they f— up—and just keep trying to be better in the face of challenge."
Season 2 kicks off a few months after Spencer and his business partner, Joe Krutel (Rob Corddry), were handed the keys to the sports-management division of Miami-based firm Anderson Financial. While the two scored some major touchdowns by signing high-profile names such as Miami Dolphins defensive tackle Ndamukong Suh (who cameos in the premiere), Spencer has his eyes set on taking down a bigger fish, namely rival financial manager Andre Allen (Andy Garcia). "Spencer is learning that the more powerful he becomes, the more enemies he makes," Johnson says. "Andre could seriously take Spencer out in terms of the enterprise he's built."
The battle also causes tension between Spencer and Joe, the outrageous, foul-mouthed partyer who finds himself having to grow up—and step up—for the good of the agency. "Joe is weary," Corddry says. "Spencer is losing his mind a little bit, and Joe is forced to take the reins. But he finds his place as the season goes on."
Joe is not the only character discovering a newfound sense of maturity in Season 2. After spending last year attempting to avoid national headlines for nightclub fights and teammate scuffles, veteran wide receiver Ricky Jerret (John David Washington) is, on the eve of his 30th birthday, at a crossroads in his career.
"He's got to set himself up for the future with his next contract because this is his sunset ride," says Washington—the son of actor Denzel—who was a running back at Morehouse College before being signed by the St. Louis Rams in 2006 as an undrafted free agent. "This is a great opportunity to show the casual football fan the responsibilities and pressures of a millionaire professional athlete. That jump from college to pros is not seamless, so they have to really make the right decisions."
Ricky's off-the-field antics reflect the real-life issues that face many current, and former, NFL players, and Washington has received overwhelmingly positive feedback from athletes struggling with the same distractions and temptations. "Some players are like, 'Don't tell all our secrets, man, some stuff has got to stay in-house!'" Washington says with a laugh. "That means we're keeping it real, which is fun."
That "realness" extends to a handful of troubles that many athletes battle behind closed doors, including depression and self-medication. When hip problems begin to trouble Spencer early in Season 2, he devolves into a self-destructive pill addiction. "Tackling some of these issues was very important for us because we wanted to make sure that we were responsible to our audience and give them an authentic look into this world," Johnson says. "We also feel a responsibility to the real players who not only achieve greatness on Sundays, but are incredibly challenged in their personal lives as well."
And NFL players are such big fans that, much like the first season, this summer features a roster of athlete cameos, from Pro Bowlers like Wes Welker and Jarvis Landry, to Baltimore Ravens behemoth linebacker Terrell Suggs, who gets into a physical altercation with Spencer in the season opener. "Terrell Suggs is a complete maniac in a very charming way," Corddry says with a laugh. "He's actually a superfunny guy and can improvise toe to toe, which made it really fun. He was never at a loss for words."
RELATED: Why We Love Rob Corddry on Ballers
For Corddry, the support of the players even extended during hiatus. The actor was offered a ride in the private jet belonging to Green Bay Packers quarterback Aaron Rodgers to get from one gig to another. "I wasn't able to do it because of my work schedule, but it was that thrilling teenage-boy realization that Aaron Rodgers knows who I am," Corddry says. "That's enough for me!"
But when it comes to star power on the Ballers set, nobody shines brighter than Johnson himself. The 44-year-old actor and producer, who began his career as the professional wrestler known as "The Rock" for the WWE, has rocked Hollywood in the last few years, conquering both television and film. His latest summer blockbuster, the action-comedy Central Intelligence costarring Kevin Hart, made over $35 million during its opening weekend. Future big-screen projects include remakes of Baywatch and Jumanji, as well as the eighth installment of The Fast and the Furious franchise. Even with all of that success, Johnson still embraces the challenge of weekly episodic television, both from the perspective of the star and the producer.
"I got bit by the TV bug in two ways," Johnson says. "I really like playing this character, but I also like understanding the process of television. To pierce the TV world and learn on the go—much like Spencer in a way—has been a tremendous experience for me. It's a whole new playing field, and I love it."
Ballers, Season Premiere, Sunday, July 17, 10/9c, HBO.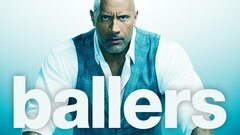 Ballers
where to stream
Powered by