'Roadies': Cameron Crowe Comes to TV With a Behind-The-Scenes Rock Comedy
Sure, comedies set in the workplace are nothing new on TV. But Showtime's freshman series Roadies—chronicling the backstage antics of crew members on a cross-country rock 'n' roll concert tour—is hardly another day at the office. It trades beige cubicles for tricked-out mega-buses and fluorescent bulbs for stadium lights (plus the occasional topless groupie turned stalker). "The show is a fun window into a world that hasn't really been done before," says Winnie Holzman (My So-Called Life), who executive produces alongside Cameron Crowe (Jerry Maguire) and J.J. Abrams (Lost). "These people lead a unique life. Most of what they do is not glamorous—it's down-and-dirty—but they're privy to these incredible, white-hot moments."
RELATED: Rainn Wilson to Guest Star in Showtime's Roadies
It should come as no surprise, then, that the folks toiling away behind the scenes and tending to every whim and crisis of (fictional) arena headliners the Staton-House Band are so colorful in their own right. The diverse troupe of anti–9-to-5ers are unified by a single common thread. "They put up with the bad food and the motels and the not taking a shower for three days, and the reason is the music," says Luke Wilson (The Royal Tenenbaums), aka veteran tour manager Bill. "They're really moved by it."
Of course, that's not enough to keep them humming along in perfect harmony. "As in any group dynamic, a family unit develops," explains Carla Gugino (Wayward Pines), who plays Shelli, the flinty production manager. Make that dysfunctional family unit. Gugino says, "Shelli and Bill are the de facto parents, and they're making it up as they go along."
Mom and Dad also share a crackling sexual chemistry that's apparent to seemingly everyone but themselves—despite the inconvenient fact that Shelli is married to another guy. (Her husband is a fellow roadie, off traveling with the Taylor Swift tour.) "Bill and Shelli have a great partnership. His weaknesses are her strengths, and vice versa," Wilson says, hinting that his laid-back alter ego—sober for a couple of years now after a history of hard partying—still has some growing up to do. "I'm rooting for them, but it's complicated."
Soon enough, that romantic pickle could be the least of their worries. In the premiere, Reg Whitehead (Rafe Spall), a British financial adviser who's equal parts Michael Scott awkwardness and corporate penny-pincher ruthlessness, arrives on the scene to cut costs. "He's an outsider. He's never dealt with the music business before, and he's going to have a learning curve," Holzman says. His presence will also serve as a nod to the changing realities of the once freewheelin' industry. Holzman says, "The old paradigms are falling apart in a lot of ways."
RELATED: Cameron Crowe Remembers a 'Generous' David Bowie, Talks About Developing Roadies
That's one of the many indicators that Roadies will strive to offer an accurate, if glorified, porthole into this universe. "We have two technical advisers—one worked with Fleetwood Mac, the other with Neil Young—who watch every shot," Wilson says. "I'll ask them how they would've reacted to something, and they always surprise me. I think, 'Gosh, I'm glad they're around to give the real answer.'" Real-life musicians also interact with the characters: Indie band the Head and the Heart appear in the pilot, while Eagles guitarist Joe Walsh and Pearl Jam's Mike McCready reportedly play versions of themselves in later episodes.
And then there is Crowe's own past as a music journalist—his 2000 hit movie Almost Famous was autobiographical—to inform the scripts. "What does the guitar tech do? How does a dressing room get set up? What happens if a band member goes MIA before showtime?" Gugino says. "Cameron has seen it all and is reporting from the front lines."
Clearly, it's a tactic that has already been proven a winner, and according to Holzman, fans hoping that this series strikes a similar note will not be disappointed. "The only difference between this and Almost Famous is the time period, because this is set in the present day," Holzman says. "It's romantic with plenty of comedy and heartfelt moments—it has all the best parts of Cameron Crowe's movies." Yep, that includes a kickass soundtrack. As the gang takes their show on the road, music both scores the action and propels it from city to city, taking center stage in every sense. Remarks Gugino, "Roadies is like one massive mixtape, and the characters live in it."
Roadies, Series Premiere Sunday, June 26, 10/9c, Showtime.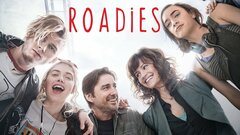 Roadies
where to stream
Powered by