'McMillion$' Sneak Peek: Winner Gloria Brown Details Her 'Blessing' (VIDEO)
If something sounds too good to be true, is it? Or could it be a "blessing"?
"Winner" Gloria Brown thought it was the latter, as seen in TV Insider's exclusive sneak peek of HBO's McMillion$. The six-part documentary series continues Monday night with Episode 3.
The single mother and million-dollar "winner" in South Carolina reveals that she was told "people are picked to be winners" in the McDonald's Monopoly game. "When I first got the offer, I thought to myself that it was a blessing that came knocking at my door," she says. "I was going to church and I was trying to do the right thing."
Watch the clip above for more from Gloria about what she saw as her "opportunity."
The documentary series chronicles the stranger-than-fiction story of an ex-cop turned security auditor who rigged the Monopoly game promotion for a decade, stealing millions of dollars and building a large network of co-conspirators across the United States.
McMillion$ features firsthand accounts and archival footage of the FBI agents who brought down the scam, McDonald's corporate executives who were defrauded, the case's lawyers, the culprits and prizewinners who profited, and those who were unwittingly duped into being part of the ruse.
McMillion$, Mondays, 10/9c, HBO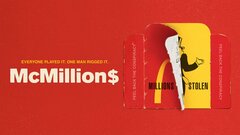 Powered by