Steve Harvey on 'Celebrity Family Feud' and Not Knowing How to 'Coddle' the Stars
ABC had a summer hit in 2015 with Celebrity Family Feud, which spurred them to bring it back as part of their Sunday Fun & Games block this summer, along with The $100,000 Pyramid and Match Game. Host Steve Harvey talks about how much different doing a celebrity Feud is than the show's syndicated version with non-celeb contestants, and why he keeps going back; this is the sixth season he's hosting the syndicated Feud.
Do you approach Celebrity Family Feud any differently than the syndicated version, which you also host?
You've got to be careful because you're dealing with some pretty big egos when talking to celebrities. Celebrities really have a problem coming across as normal people, especially when they get something wrong. A lot of the questions on Family Feud are such regular-person questions, and a lot of celebrities are so out of touch. They've got people who do their hair and go grocery shopping for them, so they don't know how much a damn gallon of milk is! I'm supposed to coddle them, but I don't really know how to do that, so it makes it even funnier.
RELATED: Steve Harvey and the Secrets Behind Little Big Shots' Huge Success
Not only do you have celebrity families battling, but you also have a group of NFL players going up against each other and Bachelor stars taking on their counterparts from The Bachelorette. How does that change things up?
The Bachelor-Bachelorette episode was pretty good because you had five good-looking people standing on the girls' side, and I'm there going, "Why is she still single?" the whole time they're playing the game [Laughs]. And one of the guys was really, really hurt that one girl didn't pick him, so there were a lot of dynamics at play.
Is there a celebrity family you want to have on the show?
The Kardashians said they wanted to do the show. I like the family. They catch a lot of heat because they're on the internet so much, but those girls are super nice. Still, whenever you're dealing with stars, it's always a scheduling problem.
How would you and your family do as contestants?
My immediate family would be great—my wife wants to play so badly. But the family I grew up with, my mother and father? Never. They can't be on national TV, none of them. [Laughs]
RELATED: Steve Harvey Gets Really Tongue-Tied on Little Big Shots (VIDEO)
This is your sixth year on Family Feud. Why do you keep coming back?
You know what it is, man? My skill set is [interacting with] people. I'm such a people person, and I'm a stand-up comedian at heart. It's a game show that is actually a comedy show. If the contestants say something ridiculous, that's where I shine.
In addition to hosting the Family Feuds, you lead NBC's kid talent show Little Big Shots and your own daily talk show. What's left for you to do on TV that you haven't done?
I'm so fortunate right now. I'm just riding this wave. Nothing lasts forever, but I'm having fun while I'm doing it!
Celebrity Family Feud, Season Premiere, Sunday, June 26, 8/7c, ABC.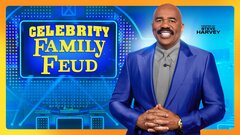 Powered by