Ranking the Super Bowl Halftime Shows From the Past 5 Years (VIDEO)
The Super Bowl is nearly here, and with it comes the annual Pepsi Halftime Show. This year, fans will be treated to a special performance by icons Jennifer Lopez and Shakira.
Fans will have to tune in to see if anyone else pops up during the set, as surprise guests aren't out of the realm of possibility. But with this show on the horizon, it's nice to reflect and look back at the shows of years past.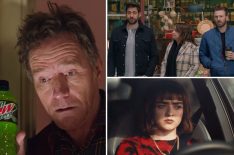 See Also
Plus, 'Rick & Morty's Pringles spot and Bryan Cranston's 'Shining'-themed ad.
Below, we're ranking the shows from the last five years which features Katy Perry, Coldplay, Lady Gaga, Justin Timberlake and Maroon 5. Find out which one takes the top spot and let us know your thoughts in the comments below.
5. Maroon 5 (2019)
Shortly after the halftime show featuring Adam Levine and friends aired, the words "worst" and "ever" were included in many headlines regarding the segment. Maroon 5 were joined by Travis Scott, Big Boi, and the Georgia State University Marching Band for a performance featuring a medley of the band's hits. But the performance appears bland next to some shows that utilized space and visuals better. The performers also received backlash for agreeing to appear at all, considering there was a call to boycott in protest for the treatment of ousted San Francisco 49er Colin Kaepernick.
See Also
From halftime performances to unbelievable plays.
4. Justin Timberlake (2018)
While this performance didn't gain as much notoriety as its predecessors, Timberlake's efforts were certainly obvious here. Utilizing the stadium in creative ways, the singer moved from location to location, beginning his set underneath the stadium, then moving out to the field and eventually into the audience. Timberlake shared the field with the Tennessee Kids and University of Minnesota Marching Band for various tunes. A touching tribute to Prince and the viral sensation of "Selfie Kid" make this halftime installment a bit more memorable.
3. Katy Perry (2015)
Left Shark, need we say more? Katy Perry rode in on a giant tiger while singing her hit "Roar," and her colorful performance left people dancing in the stands. Joined by Lenny Kravitz, Missy Elliott and the Arizona State University Sun Devil Marching Band, Perry took down the house and brought her unique style along for the ride.
See Also
From Pepsi and Microsoft to Audi and Burger King.
2. Lady Gaga (2017)
A one-girl show, Lady Gaga owned the stadium during her halftime performance, beginning with a dive from the roof then landing on the field for a flurry of fun songs. In case anyone had forgotten she was a star, she reminded them with her epic performance, which included acrobatics on wires, intense dancing and nonstop mic time. She sang many of her hits, including "Born This Way," "Poker Face," and "Bad Romance."
1. Coldplay (2016)
While Coldplay didn't strike many as the most exciting headliners for a halftime show, they proved everybody wrong with a massive collaboration that included fellow superstars Beyoncé and Bruno Mars. In stark contrast to the other dark nighttime performances, this show was bathed in light, which made for a more vibrant set. Utilizing the crowd, colors and props offered exciting visuals, and the inclusion of Beyoncé and Mars added some major zest to the moving set being delivered by the Brit band. Honoring halftime shows of years past, this Super Bowl 50 performance will be hard to top.
Super Bowl LIV, Sunday, February 2, 6:30/5:30c, Fox