'DC's Legends of Tomorrow' Recruits Vixen… With a Twist!
The Waverider is getting a familiar new passenger when DC's Legends of Tomorrow returns for Season 2 this fall. The CW has revealed to TV Insider exclusively that the character of Vixen will be joining the Arrow–Flash spin-off as a series regular. However, she is going to look a little different from the Vixen fans met when Megalyn E.K. guested on Arrow last season as Mari McCabe, a Detroit vigilante imbued with the animalistic powers of a sacred totem.
Unfortunately, the in-demand actress—who wrapped A&E's Damien this past spring and is already working in Atlanta on the sorority comedy Step Sisters with The Middle's Eden Sher and How to Get Away With Murder's Matt McGorry—is unavailable for the role as she's looking at some possible upcoming film projects. 
RELATED: Legends of Tomorrow Exec Producer Talks About the Season Finale's Justice Society Surprise
So instead of recasting the fan favorite, the show instead plans to introduce a new Vixen who will actually be an old Vixen. Yep, thanks to Rip Hunter's affinity for time-travel, we're going to meet an earlier version of the character who may or may not share some sort of historical tie to Miss McCabe. Even cooler, E.K. will continue to voice the role of Vixen in the CW Seed animated series of the same name and the door has been left open for her to guest star on any of the Arrowverse shows should her scheduling work out.
Casting is currently underway but since it's always fun to see what you guys think, toss in your suggestions in the comments below!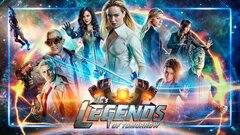 Powered by