'Legends of Tomorrow' Exec Producer Talks About the Season Finale's Justice Society Surprise
Warning: This story features spoilers from the season finale of DC's Legends of Tomorrow.

Rex Tyler?! So that who Patrick J. Adams is playing. Huh! All along, unconfirmed reports had the Suits star dropping into DC's Legends of Tomorrow as someone else, so we are thrilled that the Age of Ruined TV Twists did not claim this shocker. So who is Tyler? He's better known as Hourman and he's a founding member of the Justice Society of America from wayyyy back in the day. We hit up executive producer Marc Guggenheim for more about Tyler, his DC Comics pedigree and what comes next for Rip and company.
Now a lot of people assumed and even wrote stories that Patrick J. Adams was going to play Alan Scott.
I was amazed when I read it, I was actually amazed! God bless everybody, I love Alan Scott. He is part of the Green Lantern franchise and DC has plans for the Green Lantern.
That cross-pollination is a no-no.
You're exactly right. I don't know where that [story] came from but I applaud everyone's imagination. It would be fun to do Alan Scott for sure.
So what does Rex Tyler bring with him? I know you've talked about a hard reset for the series in Season 2.
Yeah, it's a pretty hard reset. Basically Rex represents the Justice Society of America. Patrick's lovely and having him be a part of the show is just a total dream come true. Doing Hourman on the show is also super exciting to us. But what really got our motors running was, it's not just Hourman, it's Hourman saying, "I'm over there with the Justice Society of America." We're going to do Justice Society of America next year.
The cast is going to get even bigger?!
Yes and no. We are going to meet another super team. Whether or not they all become members of the Legends, that is probably not going to be the case. There's going to be two super teams depicted on Legends next year, I will definitely say that.
And that is all we're going to say, too. If you want more on what Rex and the JSA will be doing with Legends, look for TV Guide Magazine's exclusive Comic-Con Special issue this summer.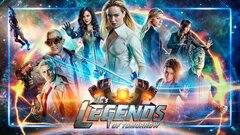 Powered by