Meet 'Vixen', the Newest Member of the 'Arrow'/'Flash' Family
Arrow and the Flash are about to get a new ally—and she's got the entire animal kingdom on her side. The animated series Vixen, based on a cult-favorite DC Comics character created in the 1980s, expands The CW's superhero universe with the introduction of Mari McCabe, a young African woman who discovers an ancient family heirloom that gives her magical powers. "The Tantu totem necklace allows her to be one with animals," says series star Megalyn Echikunwoke. "It endows her with abilities like the vision of a hawk, the speed of a cheetah, the strength of a rhino."
The six-episode series (available on the CW Seed streaming platform at CWSeed.com on Tuesdays beginning August 25) features Mari searching for the truth about her past and slowly coming to terms with her superheroic destiny. "It's so empowering," says Echikunwoke, whose own African lineage gives her a personal connection to the role (her father is Nigerian and her mother is American). "This is an unprecedented character in this comic book world. Not only is she a woman, but she's a woman of color, and she's multi-cultural. She represents who we are as a culture and as a country."
Vixen—which is set during Season 3 of Arrow and Season 1 of The Flash—shares considerable DNA with those shows: Arrow executive producer Marc Guggenheim serves as story editor, and Arrow/The Flash live-action stars Stephen Amell (Oliver Queen/Arrow), Grant Gustin (Barry Allen/The Flash), Emily Bett Rickards (Felicity Smoak) and Carlos Valdes (Cisco Ramon) all lend their voices in guest roles.
The project also has top talent from Warner Bros. Animation. James Tucker (Batman: The Brave and the Bold) is producing and directing and Phil Bourassa (Young Justice) created the character designs. The pair have been behind Warner Bros.'s successful DC Universe original movies for the past several years.
After her animated debut, might Vixen—and Echikunwoke, who will appear in A&E's upcoming Omen sequel series, Damien—jump into the live-action world of Arrow, The Flash or the upcoming spinoff DC's Legends of Tomorrow? "Anything is possible," Guggenheim hints. "What's wonderful about Megalyn is that if the powers that be and the audience have an appetite for that, we have a great actress who is capable of re-creating the role for the screen."
Questions? Ask Critic Matt Roush!
TV critic (and occasional TV therapist) Matt Roush answers viewer questions and concerns in his Ask Matt column each week. Wondering about plots, characters and twists on Arrow and The Flash? Submit your query to Matt via the form below: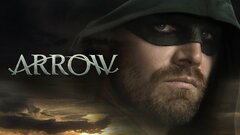 Arrow
where to stream
Powered by
Powered by